Khalifa University students were part of the first and third place winning teams at the annual NYUAD International Hackathon 2018, where they helped develop apps to bring benefit to the Arab world.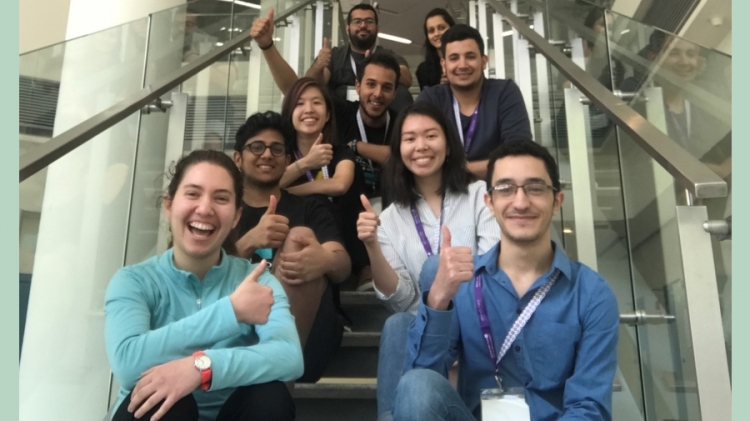 The winning project was Boosala, an app that aims to help refugees locate missing family members and friends.
Bachelor's of computer engineering student Mohammad Moussa Madine added his expertise in backend development. Madine was one of seven Boosala team members who were guided by mentors including Cloud Developer Advocate at IBM Nikita Mathur, Executive Director at OpenCurriculum Varun Arora, and CEO at Kandw Technologies International Khalid Machchate. His teammates hailed from NYU Abu Dhabi, NYU New York, the Tunisian Higher Institute of Engineering and Technology ESPRIT, University of Science and Technology Houari in Algeria, and Wellesley College in Massachusetts, USA.
"Knowing that the current process of finding missing refugees is completely manual, we believe there is a big potential to improve the process by working with organisations like the UNHCR. We would need to assess and further develop a few small but important details, like complete system implementation and access control, before Boosala can go public," Madine added. Following which, the team may work with relevant non-governmental organisations to introduce Boosala in their work.
Boosala shared first place with another app called Dawa, which aims to tackle counterfeit drugs by using blockchain based pharmaceutical distribution.
Second place was won by an app called Huwayeti (My Identity), which is blockchain-based layer on top of UNHCR refugee registration to manage trusted agents' claims made about refugees, while third place went to the team behind the app MedLughati.
The third place winning team also featured a KU student – Ahmed Madhy – who is an electrical engineering student. The MedLughati team developed a platform that provides refugees and asylum seekers with a way for communicating with healthcare professionals using their native dialects and without for typing.
According to Madhy, the idea for the Medlughati application would be breaking the language barrier between healthcare providers and patients in general or refuges in particular.
"The apps performs this by having the patient speak in Arabic (or another language) in the phone, which is converted to text, and then translated into English. The app then uses natural language processing (NLP) to identify keywords in the translated text. Certain words, such as nouns, rare words, and medical words, are flagged via NLP as important. Drawing on a medical database, the app shows images to the patient that match the identified key words. The patient can then confirm if the images correctly relate to his complaint or swipe the images to see more options that better describe his case. The process also works in reverse, when the healthcare professional communicates to the patient," he added.
The annual hackathon event sees student participants from around the world come together at the NYUAD campus over three days, where they form teams to create mobile and web applications in health, education, science and other beneficial areas of relevance for the Arab world. The competition pairs the teams with mentors – usually professors, successful entrepreneurs and venture capitalists – to help develop their ideas.