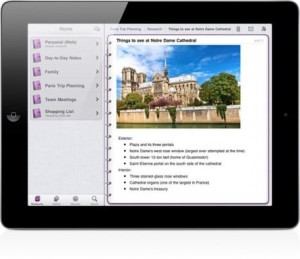 Microsoft has updated the mobile version of its OneNote note-taking application for iPads, iPhones and Android devices, creating a consistent look for notes across all computers, smartphones and tablets in which they're viewed.
This means that OneNote notes will retain all text formatting, layout, tables and other design elements that they were created with, regardless of which device they're rendered on, according to Microsoft.
"Content [created] on one device will render the same on another," a spokeswoman for Microsoft said via email.
"So as an example, a handwritten note created on a Windows 8 tablet would render exactly the same [on an Android device] even though OneNote on Android does not have the ability to natively create this content," she added.
In addition to its iOS and Android versions, OneNote is also available as part of the regular Office suite for Mac OS and Windows computers, as a stand-alone Windows Store application for Windows 8 and Windows RT machines, as a Windows Phone application, and as a Web application.
In addition, the iPad edition of OneNote has been enhanced with the Office suite's ribbon, which has a variety of design and lay-out controls. The Android version has gained the ability to dictate notes and save them as audio files.
Meanwhile, it's now possible to store in and sync notebooks with the SkyDrive Pro cloud storage service in the Office 365 cloud suite and in SharePoint servers on premises. It was previously possible to do this with OneNote notebooks in the consumer-grade SkyDrive service.
Finally, Microsoft has made the OneNote apps for iOS and Android completely free. Previously, the free versions capped the number of notes at 500. Users who wanted to go beyond that maximum had to pay US$14.99 for the iPad app and $4.99 for the iPhone and Android apps.