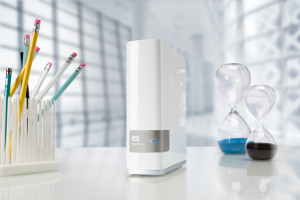 WD has introduced enhancements to its family of My Cloud® personal storage devices, including a new, redesigned My Cloud OS 3 operating system, software developer kit (SDK) enabling enhanced app integration and a dual-drive My Cloud Mirror personal cloud storage offering faster processing performance.
WD's My Cloud OS 3 features an intuitive user interface delivering a rich content-sharing experience, and back-up and sync capabilities that elevate the personal cloud NAS offering while retaining the privacy and control unique to personal cloud devices physically located in the home or office.
Khalid Wani, Director, Branded Business, for India, Middle East and Africa at WD said, "For individuals everywhere, data has taken the form of a valuable asset; from our personal content such as pictures, videos and music to our financial and identification documents and the need to manage, store and secure this remains at the core of the MyCloud series of products.
"With its robust software ecosystem, the My Cloud OS 3 brings new features; improved functionality and simple interface design to deliver easy file sharing, automatic file synching, access management and a streamlined photo gallery view on any PC, Mac, iOS or Android device giving consumers the convenience of a centralised, secure and simplified data storage and management solution."
My Cloud OS 3 features new photo and video capabilities via MyCloud.com, which provides users global access to their My Cloud via a web browser-based user interface and enables file collaboration, access management and a photos and videos gallery view.
The new WD Sync feature syncs data across multiple PCs and notebooks, while the new OS also allows users to set up automatic camera-roll backup of photos from smartphones and tablets.
As part of the My Cloud OS 3 launch, WD has introduced My Cloud Device SDK and My Cloud API enabling developers to build new extensions, features and capabilities within the My Cloud ecosystem of personal cloud storage devices.
In addition to new software upgrades, WD has also introduced a new version of My Cloud Mirror personal cloud storage devices, featuring two hard drives set to Mirror Mode (RAID 1), ensuring content is stored on one drive and automatically duplicated to a second drive. My Cloud Mirror personal cloud storage includes the new features announced for My Cloud OS 3 and an improved processor and 512 MB RAM for faster file transfers and application support.
 My Cloud OS 3 is now available as a free download on current My Cloud personal cloud storage devices. My Cloud devices supporting the new OS 3 include: My Cloud, My Cloud Mirror, My Cloud Expert Series EX2/EX4, My Cloud Expert Series EX2100/EX4100 and My Cloud Business Series DL2100/DL4100.