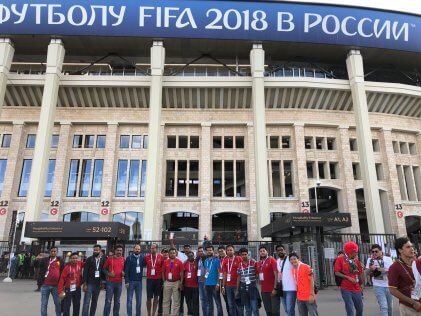 Toshiba Gulf's top distributors and channel partners participated in a FIFA World Cup tour to Moscow, which was recently organised by the firm's storage division of the regional sales and marketing subsidiary.
The FIFA tour reward programme was a sequel of the annual Toshiba Stars Award Ceremony held in Dubai couple of months ago, where the company honoured top performing distributors, retailers and resellers in the Middle East and Africa region as part of Toshiba's annual MEA Conference of Distributors of Hard Disk Drive.
Santosh Varghese, general manager, MEA, Toshiba Gulf, who led the delegation to FIFA World Cup, said team members watched the Portugal Vs Morocco match.
"The FIFA tour was indeed a celebration of Toshiba's outstanding sales performance in FY 2017 as the brand's storage products had a YoY growth of 47 percent in FY 2017 in the Middle East and Africa region with Saudi Arabia claiming the highest 52 percent share, followed by the UAE at 31 percent."
During the event, Toshiba launched the Ninja Sales Challenge program for 2018. Winners of this challenge will go to Japan during April 2019 and the tour highlights will include visits to Toshiba Science Museum and Toshiba Memory Factory in Yokaichi, Japan.
At the May event for Toshiba Start Award ceremony held in Dubai, which was attended by 22 distributors across Middle East and Africa region, Toshiba launched its branding campaign "Think Back Up & Think Toshiba.''