Abhijeet Sanyal, AVP Technology Staffing Services at Raqmiyat, explains what makes the company stand out in the IT staffing industry and what's in store for their future.
Raqmiyat has established itself over the last 20 years as an industry leader in identifying IT professionals to take on roles in multiple industries across the UAE. How have you added value to the region?
Raqmiyat comes across as a locally incubated and grown IT Systems Integrator. As the IT industry has evolved over the last 35 years, Raqmiyat has evolved with the times. Staffing business in Raqmiyat was started with the same vision of not just adapting to the dynamic changes in the IT industry, but to pioneer a completely new dimension. In the last 20 years, Raqmiyat has executed hundreds of projects in UAE and KSA, possibly building the most complex systems in the country. Our consultants are primarily placed in critical government entities and large banks performing tasks that act as a catalyst to our day to day life. This I believe has added tremendous value to the region.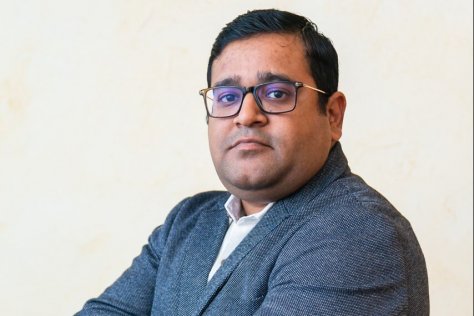 In order to meet the growing demand for niche roles in the Middle East, Technology Staffing Solutions (TSS) was formed. What differentiates TSS from other IT recruitment consultants?
I always maintain Raqmiyat is not an IT Staffing company. TSS is part of a very large canvas that Raqmiyat is all about. Something that differentiates us is that we are technology agnostic. We have the capabilities of hiring skilled IT professionals from any technology scape. Right from the very basic IT Helpdesk Engineer to the most complex Infosec Consultant; from plug-and-play software developers to the senior software Architects; from a normal DBA to a complex functional or a technical consultant. With our skilled recruitment team, we have the leverage of hiring a resource pertaining to any skill. I can hire a resource from any geography as per the need of the customer. Currently, my consultant spread is across 17 nationalities.
One of the most critical differentiators for Raqmiyat is our employee engagement program once they come onboard with us. We have a separate team that looks after the well-being of our consultants once they start working. This starts right after they land in the country and stays till their separation. This team meets every consultant once a quarter over a meal and understands their issues and problems, and then ensures there is a fast-track redressal of these issues. 
You supply major entities in the Middle East with highly-skilled IT professionals, but which industry is the most important vertical for you? Is it in Banking, Government or the Private sector?
Traditionally, our major customer base has been Government whether UAE or KSA. Due to our expertise and huge references, we always remain at a competitive advantage vis a vis our competitors when it comes to the government entities. The second biggest consumer are the banks. Again, since we have a separate and full-fledged BFS practice, we are always connected with the banks and hence end up supply quite a few amounts of resources to the banks.
Disruptive new technologies are transforming the way many major industries operate. However, will TSS be equipped with the right resources to continue to recruit enterprises with the employees they need to drive their business?
Over the years Raqmiyat has been at the forefront of the changing dynamics of the IT and right now with a well-oiled engine we are ready to embrace and lead the change rather than being a laggard. We have incorporated smart tools during our whole recruitment process right from CV sourcing to interview scheduling to the final selection. We are rapidly moving from a "people dependent" to a "Process Dependent" business module.
Moreover, the recruitment team is trained periodically to make them well versed with the new and upcoming disruptive technologies which enables them to hire the fit for our customer needs.
What are your goals and objectives for the remainder of 2019?
H1 has been fabulous for us. We have not lost a single contract while we have added new logos and headcount to our business. As a business unit that is very proud of its activities, we have set quite aggressive goals for H2 of 2019. We intend to double the business volume of H1 and hire consultants on high value chain of the technology. We are looking to add strength to the cyber security, SAP, AI, BI and analytics in the upcoming months.