Karan Dixit, Vice President of Sales for the Middle East and Africa at UiPath, explains why an "Automation First" attitute is a must for any organisation striving to improve productivity, efficiency and workplace satisfaction.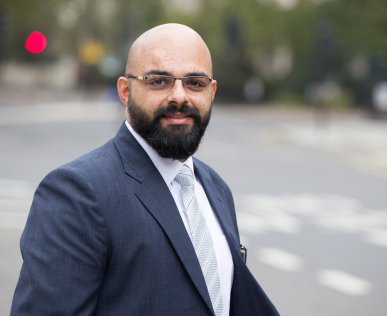 What approach to RPA do you see from organisations in the region?
The Middle East is a strategic region for UiPath and one that is really at the forefront of the "Automation First" vision. Companies and organisations here are now seeking solutions to increase their efficiency, profitability and competitiveness. Given the macro- economic environment, companies are eager to upskill their teams to more value adding and creative contributions rather than limit them to handling enormous volumes of data, complete countless repetitive and mundane tasks under time pressure.
In the region, the very progressive government visions are transitioning us into digital nations, and this has translated into government organisations themselves being receptive towards the advantages of using RPA and introducing a digital workforce. The big strides UiPath has made since settling in the region less than 18 months ago speak for the readiness of the region, and the visionary approach of both public and private institutions.
What is the process UiPath goes through with organisations who are thinking of implementing RPA?
As soon as we hear from organisations of their interest in implementing UiPath's automation solutions, teams from UiPath and our partners engage in better understanding the pain areas and how we can address with an "Automation First" attitude. Although there is only one UiPath platform, the needs from customers are so diverse, and our multidisciplinary team will tackle in a very tailored manner. Together with the teams involved in developing the automation project, which typically include business management and IT representatives, they will assess the processes for their suitability to being automated.
Once the organisation has successfully completed the pilot phase, and is keen to continue its digital transformation, the next step is setting up a Robotic Operation Center (ROC). Essentially centers of excellence, ROCs are dedicated to gather people whose roles are to ensure the long- term governance of RPA projects. Holding positions such as RPA Solution Architect, RPA Business Analyst or RPA Structure Engineer, these are just a few examples of the new type of jobs created by the advance of RPA.
Artificial Intelligence is the hot topic of the moment, with many organisations thinking of implementing this technology. What are the challenges of doing so and how does automation come into play?
We at UiPath no longer talk about RPA alone, but see our automation solutions as a technology ecosystem that always includes Artificial Intelligence. Although the advance of RPA has been tremendous, for many it has become apparent that RPA needs an ally when tackling more complex processes, like calculating or predicting outcomes.
That is why, for us evolving towards an automation solution that creates a unified RPA and AI experience, such as UiPath's AI Fabric, was a natural step. This delivers an end-to-end AI/ML skill deployment and management within the UiPath RPA platform. We at UiPath believe that the road to AI is via RPA led automation and we are seeing this successfully being deployed at multiple locations.
How can robotics and automation drive a new era of productivity, efficiency and workplace satisfaction?
Automation is bringing to the workplace a change so profound that we, as a company, have always been aware of our transformative mission since our early days. Thinking back to computers and their introduction to the workplace – nowadays there isn't an office worker that doesn't use one. We truly believe the next revolution in the workplace will be driven by the arrival of software robots and as our CEO and co-founder Daniel Dines put it, we want to give one robot to every person to help them with their daily tasks and free them from the burden of boring, repetitive tasks.
This makes the job more creative and engaging, and our customers' employees are reporting excitement from working alongside software robots. These are error free, work 24/7, don't take holidays or sick days, and are dealing with large volumes of tasks at a rapid speed, which not only increases a business efficiency, but also boosts customers trust and satisfaction.
There is a longstanding debate regarding automation because of the impact it may have on the workforce. Do you think RPA will lead to job losses?
Several months ago, a report from the World Economic Forum was forecasting that the Fourth Industrial Revolution will create more than 60 million jobs in the next years. Whilst automation is not replacing jobs, but tasks, there are industries that are more at risk than others. From the outset, the founders of UiPath have taken responsibility for the transformative impact of the automation industry and have put in place ways to counteract. UiPath Academy is a free online platform offering training for the jobs of the future: RPA Business Analyst, RPA Developer, RPA Solution Architect, etc. Anyone in the world has free access to these.
Additionally, we've created the UiPath Academic Alliance program pledging to train one million students in automation from one thousand schools in the next three years. We are preparing our youth for the workplace of the near future. Additionally, what our experience has shown us is that RPA has so far led to the creation of new jobs by bringing to organisations new roles that support RPA implementation. For instance, our clients, both enterprises and public sector agencies which take a long- term commitment towards automation, set up ROCs which represent the go-to place for in-house RPA expertise. The Robotic Operating Team brings together RPA engineers, developers and RPA change managers. We have also seen many companies actually increasing their teams where RPA is deployed as the teams freed from mundane activities, now spend time doing more decision making, analysis and improving customer experience.
Can you tell us more about some of UiPath's regional partnerships?
UiPath has been quite humbled by the adoption and acceptance it has received in the Middle East. A multitude of local ICT companies have seen the challenges that their customer face and have become certified partners. This has allowed us to present to our customers a vibrant and skilled channel ecosystem. One of the most exciting elements has been that our partners have taken the platform and have now started to build their own IP on top to address local and regional challenges. We have focused intensely on local skills development and have launched our Academic Alliance program and you will be hearing a lot on this in the coming days. With major customers such as Etisalat, Landmark, STC, EGA in addition to many banks, retail, healthcare, government and other sectors that are now deploying UiPath at scale, we are truly excited about what we can achieve together.