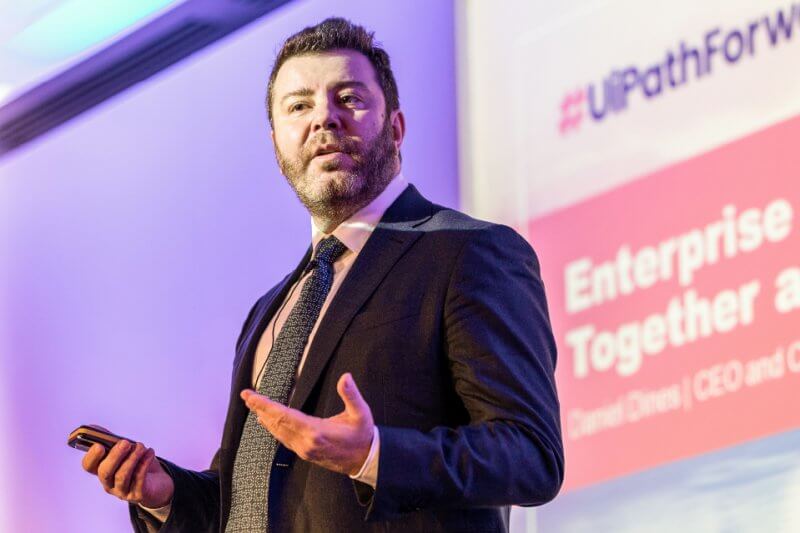 Daniel Dines, Co-Founder and CEO of New York-based robotic process automation specialist UiPath, tells CNME why RPA has the power to reinvent the future of work, as well as providing wholesale improvements to enterprise operations.
What are the biggest misconceptions around RPA?
There's this blanket statement that RPA replaces jobs, and while some sectors are more susceptible to job losses (such as business process outsourcing or shared services), what we're seeing in our deployments with partners and customers is that RPA replaces tasks, not jobs. Our customers are reporting that their employees are happier because of automation with more time to get immersed in creative, customer-facing activities.
What are the biggest challenges that organisations face in making robotic process automation work for them?
Sometimes it is a challenge to bring the IT department on-board with the RPA implementation. Journeys need a plan that take us from A to B, that have ideally been preceded by a competent analysis – what business processes are suited for automation, which departments hold the most people doing dreary time-consuming work comprising tasks that employees hate. Ideally, this should be done by a member of an in-house RPA centre of excellence that include all functions the organisation needs to seamlessly deploy RPA. We believe RPA is at the core of the digital transformation in companies, and this should be seen as a journey for all non-born digital organisations.
What is UiPath's value proposition?
UiPath is at the forefront of the digital revolution, providing organisations of all sizes an industry-standard enterprise RPA platform. We see ourselves as reinventing the future of work through our automation-first mindset, promoting the adoption of one robot for every employee that will exempt them from tedious time-consuming mundane tasks, freeing them for higher value work.
UiPath's RPA is easily implemented across any enterprise or government entity and within any department. Our Enterprise RPA Platform has an open architecture, is well-suited for integration with innovative technologies and has an intuitive design that people find easy to use.
Is RPA too often confused with artificial intelligence? If so, does this misconception hinder the uptake of RPA?
We think there is more and more education among business audiences as to what RPA really stands for, and how it has become an enabler for companies to start leveraging AI. We see that the vast majority of enterprises have embarked on their digital journeys, and that has been a major factor in our success.
Do you believe that RPA needs to be implemented across all aspects of a large organisation? If this is not the case, isn't this likely to result in a series of problems?
RPA simplifies business processes by replicating human actions and automating repetitive tasks through the deployment of software robots, without modifying existing infrastructure and systems. We intervene in functions that are faced with monotonous tasks that can be easily automated, such as finance, HR, procurement, and customer service. That being said, not all functions can be automated.
Is there a risk that RPA can make organisations too reliant on automation? Could this reliance leave them hamstrung in a few years' time?
Automation is here to stay. A scenario where an organisation has started its digital journey and then dropped it altogether is not a realistic one. Not when RPA yields cost reductions, time saving, improved productivity and compliance, increased customer and employee satisfaction. Moreover, RPA will only get better as it matures even more, becoming a true path to AI for enterprises.
How can organisations ensure they continually update and 'teach' their RPA platforms to ensure that they get the best possible results from them?
It's really important to work with the platform, involve the right people in implementations, making it a company-wide initiative.
What kind of areas is UiPath currently investing in and prioritising for the future?
Our investments go primarily towards increasing our global footprint – creating and developing teams to best cater for our local and regional customers, and to support our accelerated product development objectives – adding more and more AI and machine learning algorithms to our platform. UiPath is also deepening its ecosystem of partnerships to deliver complementary AI-enabled solutions, and we want to stay faithful to our mission to democratise RPA. We provide free access to our Community Edition platform to tens of thousands of developers and businesspeople in the world, as well as free training programs through the UiPath Academy, and access to a strong automation curriculum to students and universities worldwide.
How have UiPath's products and services already benefited customers? Give examples of how your technology has tangibly improved operational efficiency for your customers.
Curo Fund Services — a South African investment administration services provider — needed to boost the overall efficiency of their operational processes to reduce costs and optimise their customers' experiences. They knew that there were parts of their process that were repetitive, data-intensive and error-prone. They also knew that errors in the process could result in financial loss because of agreements made with their clients. Exploring a solution to these issues, Curo turned to South African LarcAI, a solution provider specialising in RPA and intelligent automation. LarcAI determined with Curo that automation could help boost the performance of their processes. LarcAI selected UiPath for its RPA implementation because of characteristics that make its platform unique and user-friendly. A critical requirement for the project was for the solution to allow for future enrichment with intelligent processing and machine learning capabilities.
UiPath's open platform proved itself an integral part of this plan as it can be easily integrated with expert AI services. Microsoft Cognitive Services, IBM Watson or ABBYY's intelligent OCR, were fused with the UiPath RPA platform to help Curo automate more processes at a later stage of the deployment. Implementing the LarcAI-UiPath solution, Curo automated 65% of targeted instructions: extracting pricing information, consolidating and updating emails, and sourcing data on a daily basis. As a result, they attained a greater degree of control over the entire process and more efficient, optimal workflows.