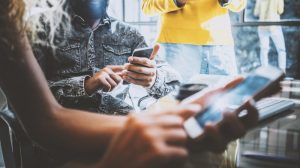 The issue of channel players trading in the grey market and disrupting business continues to plague the industry even today. We speak to experts to find out if concrete measures can be taken to counter this age-old problem.
Grey market refers to an unofficial market where the products sold have not been released by the original manufacturer. While counterfeit products are unauthorised replicas of the original product. The regional channel industry has been grappling with both challenges for years and it continues to disrupt businesses. The problem persists despite certain measures from the industry to keep it in check.
Shailendra Rughwani, chairman, Experts Computer, says it is not possible to completely control this situation.
"Dubai is a dynamic market where about 60 percent or more products imported are for re-export to different Middle East and African countries. To a large extent, vendors have been able to tackle the grey imports by being aggressive in terms of pricing and channel control but it is not possible to completely stop the grey imports due to different reasons," he explains.
According to Karim Kattouf, investigator, Cisco Brand Protection, Middle East and Africa, there has been a spike in counterfeit products circulated in the UAE and the Gulf recently.
"The size of this market can vary with the macroeconomic environment and product supply versus demand, among other factors," he says. "During tough economic times, budgets get stretched and the grey market can appear attractive to those looking for lower cost products, which on the surface meet their needs but also increases the likelihood of counterfeit products being deployed in their networks.
Lack of awareness of how it affects the brand and their own firms is one of the reasons why channel players believe no harm is done by trading in the grey market or selling counterfeit products. That being said, there are players who are educated on the issues of trading in the grey market and yet resort to it. This is largely due to the availability of products and high prices in the local market. Also, some players think of it as means to earn easy bucks.
"Pricing, as it is on the higher side for this region, and issues with availability sometimes compel players to trade in the grey market," Rughwani adds. "Pricing is a major factor as there is a difference in the prices of products sold locally compared to the ones imported and significant profits from the difference."
Kattouf says, "Counterfeiting is not a new issue in the IT industry or indeed in any successful global enterprise."
Therefore, the question is what kind of regulations need to be in place to deter players to trade in this market?
Rughwani says, "Dubai is an open market and with its numerous free zones where goods are imported to be exported, it is difficult to have a total control. However, the vendors can play a major role here where they can control the pricing and product availability. Also, I believe open policies from the vendor where they are in direct touch with the channel will help greatly to improve the situation."
According to Kattouf, the company actively monitors the counterfeit market and have longstanding processes in place to address this challenge.
"As part of our commitment to the integrity and quality of Cisco technology and services, our Brand Protection team leads an aggressive, concerted and company-wide effort to prevent potential damage to our brand and to our customers as a result of counterfeiting. Counterfeiting is a criminal activity and therefore we work closely with law enforcement agencies worldwide whenever those agencies decide to take action against those who would profit by this illegal conduct."
While some would argue that the grey market challenge is a necessary evil, the truth of the matter is that it is a delicate issue due to the regional market dynamics, says Rughwani.
"Vendor interaction with the channel will surely prevent the grey market to some extent. Also controls in other markets from where the products are imported can help curb the grey market," he adds.
Vendors have a responsibility to speak to partners and understand their concerns and put in place effective measures to control the problem. This will only be possible with more communication and identifying the reasons as to why it happens in the first place.
Kattouf adds, "As the Middle East enhances its role as a global economic and technological hub, we are seeing counterfeiters deploying increasingly sophisticated methods to get their counterfeit IT goods into the region.
"Due to inferior components and illegal software frequently found in counterfeit IT products, we are alerting organisations of all sizes and verticals in the UAE that purchasing counterfeit IT goods could cause an increased risk of cybersecurity threats."
These threats could bring business to a halt, potentially endanger the wider industry, and even cripple citywide or national infrastructure.
"We are dedicated to working with government authorities, including the police, to help in eradicating counterfeit IT products in the UAE and in securing the country's network infrastructure," he says.
The stakeholders in the entire IT channel ecosystem, including vendors, distributors and partners, need to come together to find a way to address this challenge. They might need to approach local authorities and identify a way to establish stricter laws and regulations. Only if the channel community is united in finding a solution, can there be one.