Masdar, the Abu Dhabi Future Energy Company, has announced its collaboration with the UAE Ministry of Education on its Innovation Ambassador Program 2019.
A Memorandum of Understanding (MoU) was signed by Dr Amna Al Dahak Al Shamsi, the MoE's Assistant Undersecretary – Activities Sector, and Dr Lamya Nawaf Fawwaz, Masdar's Executive Director, Brand & Strategic Initiatives.
The objective of the MoU is to support the UAE Vision 2021 through a mutual exchange of knowledge and expertise to empower youth and build sustainability awareness.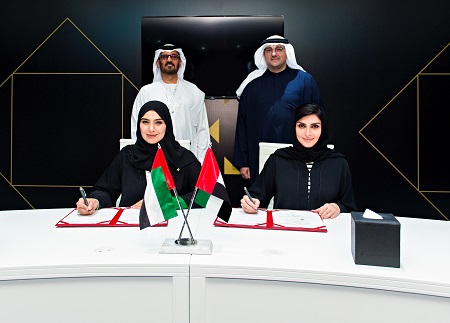 As part of the agreement, Masdar's existing Sustainability Ambassador Program, which aims to empower its participants to play an active role in driving a sustainable future, will be incorporated into the MoE's Innovation Ambassador Program 2019. Masdar launched the Sustainability Ambassador Program in 2016 at Abu Dhabi Sustainability Week.
"This agreement is in line with the Ministry's vision to provide students with an innovative education for a knowledge-based, pioneering and global society. It is also in line with the new Emirati School Model that aims to build a modern and innovative UAE Education Ecosystem," said Dr Al Shamsi. "This MoU will enable the Ministry to work closely with Masdar to strategically align the core objectives of its Innovation Ambassador Program. It is also a golden opportunity that enables our students to work closely with Masdar in advancing the development of clean energy technologies and solutions."
Masdar is participating in this year's NSTI, which is being held from January 31 to February 4 at Dubai Festival Arena. Masdar is hosting the annual Ecothon at the event with the involvement of all 39 of its sustainability ambassadors, aged between 16 and 18. The winner of the Ecothon, a fun challenge event themed on the environment, will receive an internship with a leading company.
Masdar's Dr Fawwaz said, "Masdar is proud to collaborate with the Ministry of Education on its Innovation Ambassador Program 2019, an outstanding community outreach initiative that promotes innovative-thinking among young people in a wide variety of fields, and to strength the program's engagement around sustainability.
"Abu Dhabi Sustainability Week, hosted by Masdar, today one of the world's largest sustainability gatherings, has become a key contributor to youth empowerment in the UAE and other countries, as a platform for the Women in Sustainability Environment and Renewable Energy (WiSER) initiative, the Climate Innovation Exchange (CLIX) promoting start-ups and young entrepreneurs, and a diversity of other activities encouraging youth engagement in sustainability issues. At Masdar, we're proud to be able to bring this experience to further advance sustainability education."
NSTI, which is organised by the Ministry of Education and attended by more than 1,500 school students, showcases the Ministry's educational vision to offer innovative and pioneering education for the UAE's future leaders.