CNME Editor Mark Forker spoke to Sasrik Sivaram Vallath, Divisional Manager at DME Prolink, which is the Data Communication Division at ECS Global Wire, to find out how he has helped establish the company as a regional leader in terms of offering high-end electrical, wiring and connectivity solutions across different industry verticals.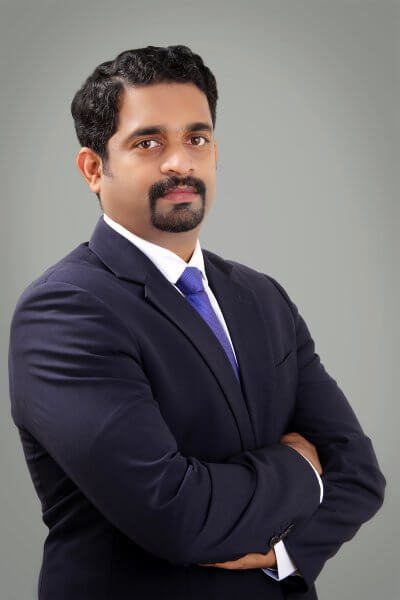 Vallath joined ECS in 2018, as part of an effort to expand and establish the Datacomm Division. Over the past 2 years there has been substantial acceptance for DME Prolink throughout the region.
Some notable projects the company has overseen include FAB Bank, Mohammed Bin Rashid Al Maktoum Space Research Center, Emaar, Wasl, DMMC, and Ministry of Education Kuwait.
Can you tell me what about your role in ECS Global Wire, and how your experience in the cabling industry has helped you achieve regional acceptance for DME Prolink?
I have been associated with the Data Transmission industry since 2005, with a large system integrator that gave me an opportunity to technically qualify large project designs, understand site requirements and identify good products based on installation ease and testing parameters.
In 2011, I moved to an American manufacturer for Copper and Fiber systems that added to my experience on product development aspects. While I was offered a role in ECS Global Wire to develop the Datacomm business, I investigated on the solution range and their approach to the market.
I found that the company had started their Middle Mast operations in 2004, while selling fully-fledged solutions on data communication with an extensive reference with service providers and large island development project. There was immense potential to develop and establish it further to achieve a reasonable market share.
We invested on product development prioritising the quality in catering verticals and we ensured that the products were approved by regional authorities. The newly developed products were tested and certified with recognised third-party laboratories for reassurance.
Our channel acceptance increased with our persistent support, response to enquiries and technical assistance. We positioned custom-made products to create accounts and then introduced a main-stream product line. The newly developed channels liked us due to the technical support offered on pre-sales and post-sales phases in the projects.
One of the other statements that I used to hear from the channel partners while creating a new account is losing the momentum after the sale is made. Internally we took proactive measures to avoid the situation. While we focused on increasing the sales, we ensured that we devoted equal time on accounts created. The concept was a success and ensured customer satisfaction inside and outside of the UAE.
In addition to this, Systematic Consultants Engagement has been a theory put to practice. We organised different events to engage the IT consultants in training programs, mind-share meetings, technological trends, international standards, and factory updates.
We remained committed to the post sale support in terms of project certification and audit programs and those were well received by the Technological Consultants in the region.
How important has your pricing been in terms of helping you gain customers in the Middle East region?
We identified the consumer behavior of perceiving an expensive product as a high-quality product. It was a gradual transformation of the pattern to comprehend the pricing mechanism and optimise it to suit the requirement.
We found it simpler to explain the value for the product and price associated with the regional support available to break the stereotypical thought of products manufactured in Europe or US being the best because of its high price.
Having multiple ISO Certified manufacturing facilities in India, Taiwan, China, Turkey, and Portugal, we ensure the warranties on the system performance exceeding the industry norms. The replacements, returns or replenishment plans are also well received in the region due the extensive regional presence with own warehouse and support staffs.
How do you see the post COVID-19 phase?
While the entire world is affected on different levels due to the pandemic, we identified a larger possibility for a regional expansion. The need for high speed internet access on a residential segment due to increased work from home culture and an upsurge use of consumer IoT applications are bringing us closer to large residential developers deploying more fiber to the Home.
DME Prolink has always been a largely accepted fiber cables and connectivity vendor in different verticals including service providers. We expect a significant growth of fiber usage to facilitate the transmission requirements in the new era digital transformation and cloud computing.
Robust Passive infrastructure with regain prominence due to the global need for high band consuming data transmission.
What differentiates DME Prolink from its market rivals?
We consider our competitors as an opportunity to identify and develop products that makes a difference to the end customer. DME Prolink distributor who is also the distributor for our competitor American Manufacturer, considers it balanced distribution ecosystem with our enhanced solution where we offer an extensive passive infrastructure product range complying to regional regulations.
In the beginning of the year we introduced the control cables and the customer responses has been noteworthy. The extended product offering makes us a reliable one shop stop for passive infrastructure for IP based systems. We now offer:
Intelligent Copper and Fiber Connectivity Solutions
FTTx and GPON Solutions
IP 20 to 67 Graded Cabinets with PDUs
Data Center and Cable Management Solutions
Control and AV Cables
Outside Plant and Industrial Grade Fiber and Copper Solutions