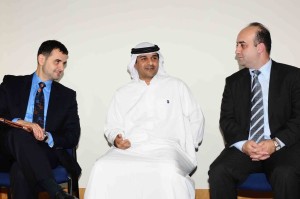 There has been no vertical that has been more hesitant in its approach to cloud computing than financial services, but two of the UAE's leading banks have bucked the trend and gone public with initiatives which embrace the technology.
Banks are expected to spend almost $180 billion on IT this year, according to research company Celent. But while cloud-based services currently account for a fraction of this, some estimates predict spending by financial-services firms on the public, private and hybrid cloud solutions will total $26 billion in 2015.
A recent PricewaterhouseCoopers survey of financial services executives supports this notion of momentum. Seventy-one percent said they will invest more in cloud computing this year — up from 18 percent who said the same in 2012. In addition, 50 percent said they plan to invest in private cloud technology.
Gartner predicts that MENA is projected to experience one of the highest global growth rates for public cloud services, increasing from 2012 to 2013 by 24.5 percent to $462.3 million. The UAE is likely to be particularly active in this respect, with IDC predicting annual compound growth of 43.7 percent until 2016.
SAP has taken a firm grasp of the UAE banking sector when it comes to cloud. According to its Global Head of Financial Services Industries, Ross Wainwright, demands for greater innovation in the financial service industry had aggressively driven the creation of the SAP Financial Services Network (FSN), which connects corporate customers with their financial services providers in the cloud.
"What corporate treasurers need is a faster, simpler way to connect to their banking partners that could also provide a consolidated view of their enterprise's financial positions and real-time access to all of their banking information. That could happen in the cloud," he said.
"A single service could connect banks and corporate treasuries, enabling them to share data — including payments, payment statuses, and statements — as well as automate collections, reconciliations, settlement updates, financial reporting, and other key processes on a common platform. More importantly, it could also serve as a foundation upon which to build analytics applications that harness all of that data."
Until now, corporates have tended to deal with their bank or banks over point-to-point, proprietary connection — a situation that creates multiple silos of information and makes it more difficult to gain a single view of their positions and liquidity across all institutions.
Hosted by SAP as an on-demand offering, the SAP FSN is a bank-to-corporate connectivity service in the form of a network, over which the two sides are able to communicate.
Corporate customers can authorise payments and interrogate their accounts with real-time analytical tools, while the banks can use it not only for timely reporting, but also, SAP argues, to offer additional services as and when they detect opportunities from the analysis of their customers' transactions.
The network is also intended to facilitate core transaction management among banks, corporations and treasury service providers. As part of the development of the network, banks and corporations are continuously contributing their expertise and resources to create a real-world road map that helps deliver full financial integration, connectivity and service among all participants.
Receptivity for ground-breaking solutions like the FSN will be buoyed by SAP's already strong profile in MENA's financial services sector — a fact that has been underscored by the cloud initiatives by Emirates NBD and Abu Dhabi Commercial Bank (ADCB).
Emirates NBD explained how it turned to SAP when it was making efforts to cope with the effect of rapid growth on its ability to accumulate and analyse customer and transaction data.
According to its VP of Application Management, Fuad Mohamed, Emirates NBD opted to employ database software that could keep up with the complexity of the challenge, including reducing the time required for analysts to receive reports. This approach also helped the bank minimise storage expenses, which became an important issue as the database grew to 14 terabytes in size.
After implementing SAP Sybase IQ software, Emirates NBD was able to cut the average time required to traverse five years of data down to two minutes, whereas a compression algorithm reduced the 14 terabyte database down to 4 terabytes and the number of servers from eight to one.
"SAP Sybase IQ has brought us increased availability, improved speed, and extra efficiency in our decision-making process," Mohamed said. "This in turn has helped us focus more on figuring out how best to address our customers' needs, instead of having to spend effort on data management technology.
"We are making better use of advanced business intelligence functionalities and spending less time waiting for the results of complex queries. SAP Sybase IQ means faster data processing and less administrative overhead. It is a complete success from a TCO viewpoint."
ADCB's journey to the cloud was supported by a host of solutions from Ariba, an SAP company that makes Web-based software hosted in the cloud that connects suppliers and buyers online.
The bank is currently running the Ariba Sourcing software-as-a-service (Saas) solution, which enables it to handle the majority of its spend through online negotiation, including complex categories like legal services. This has resulted in savings of millions of dirhams, according to its Head of Procurement, Maher Zebib.
The bank also runs the Ariba Procure to Pay SaaS, which helps it stay flexible and ensure control and compliance between vendors, contracts, regulations, buyers, and finance organisations, Zehib said. The solution means it can scale resources to dynamically manage suppliers, processes, budgets, approvals, and payments on a global basis, he added.
"SAP has made a big difference to our ability to run crucial tasks in the cloud," Zehib said. "We have seen considerable time and cost savings to date, coupled with higher levels of efficiency and productivity."
Emirates NBD, ADCB and SAP were speaking today at the annual SIBOS banking and financial conference, which is this year being held in Dubai.