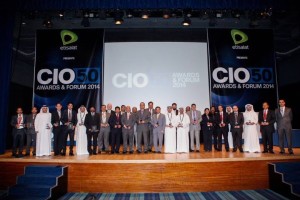 CNME's fifth annual CIO 50 awards ceremony took place yesterday at Jumeirah Beach Hotel, and served as the perfect gathering of the region's top IT executives. 
Before the awards were presented, the audience were treated to a series of keynote speeches, kicking off with a talk on 'The Digital Revolution' by Irfan Jeraj, Director, Solution Architecture – ICT, Etisalat.
Talks followed from Arun Tewary, VP-IT, Emirates Flight Catering; Ali Radhi, Head of IT, MBC; Dr Hazem El Khatib, IT Director, Abu Dhabi Department of Finance; and Esam Hadi, Manager – IT, Aluminium Bahrain.
Here is the complete list of the 2014 winners:
Abdulla Ahli, Emirates Institution for Advanced Science and Technology
Affan Al Khoori, aswaaq
Ahmad Yahya, Sheikh Khalifa Medical City
Ahmed Ebrahim Al Ahmad, Nakheel
Ajay Rathi, Meraas Holding
Ali Ghunaim, Canadian Specialist Hospital
Ali Mohamed Al Ali, Abu Dhabi Health Authority
Ali Nimer, IRENA
Ali Radhi, MBC
Alok Srivastava, Masdar
Anas Taraben, Dubai Refrshments
Arnab Debroy, Metito Overseas
Arun Tewary, Emirates Flight Catering
Col. Anwar Abdulla Al Mulla, Abu Dhabi Police
Dr Jamal Al Hosani, National Emergency Crisis and Disaster Management Authority
Dr Hazem T. El Khatib, Abu Dhabi Department of Finance
Dr Jassim Haji, Gulf Air
Dr Saeed Khalfan Al Dhaheri, Ministry of Foreign Affairs
Einstein Johnson Rozario, MedNet
Esam Alfalasi, Ministry of Economy
Esam Hadi, Aluminium Bahrain
Farid Farooq, Dubai World Trade Centre
George Yacoub, SEHA
Dr Hazem El Khatib, Abu Dhabi Department of Finance
Hisham Mohammed Iran, Dubai Taxi Corporation
Ibrahim Al Najjar, DP World
Ibrahim Ali Al-Saggaf, Saudi Electricity Company
Ifran Jeraj, Etisalat
Jaison George, KPMG
Jamal Abdulla Al Romaithi, Ministry of Presidential Affairs
Joseph Aninias, UOWD
Juma Al Ghaith/Younis Othman, Dubai Customs
Kirit Shah, Landmark Group
Khalid Buhindi, Sharjah Police
Krishna Roy Chowdhury, Qatar National Library
Madhava Rao, Emke Group
Maisam Zaidi, ALEC
MN Chaturvedi, Al Shirawi Group
Mohammed Saeed Al Shehhi, GCAA
Muhammad Ali Albakri, Saudi Airlines
Nadeem Busheri, Dubai Islamic Bank
Ronald Dsa, OSN
Roy Verrips, Grand Hyatt Doha
Saif Al Ketbi, ADPC
Saji Matthew, Economic Zones World
Sami Al Shammari, Oryx GTL
Samir Alarmari, Alshamel Travel
Sebastian T Samuel, AW Rostamani
Sreedhar Reddy, Aldar Properties
Thameem Rizvon, Kamal Osman Jamjoon Group
V Suresh, Jumbo Electronics