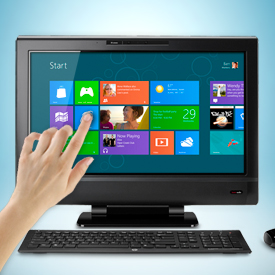 Microsoft was hit with a double whammy last month as it made scant progress in either boosting the usage share of Windows 8 or depressing the share of Windows XP, data published on Wednesday showed.
According to Internet analytics company Net Applications, Windows 8 gained just over half a percentage point of usage share in April — virtually the same as the month before — but again fell further behind the pace set in 2007 by Windows Vista, the edition most see as Microsoft's last dud.
Windows 8's April share, including what Net Applications labeled as "touch" for Windows 8 and Windows RT — in other words, browsing from the "Modern" user interface (UI) rather than the mouse-and-keyboard UI of the traditional desktop — was 4.2 percent of all Windows PCs, up from March's 3.6 percent.
Even with that increase, the gap between Windows 8's and Vista's adoption trajectories again widened.
By the end of its sixth month, Vista powered 5.8 percent of all Windows PCs, or 1.6 percentage points higher than Windows 8 at the same point in its post-release timeline. April's difference between Vista and Windows 8 was several tenths of a point larger than the month before, and the biggest so far in Computerworld's year-long tracking.
Windows 8's performance was not the only bad news for Microsoft last month: Once again, Windows XP's usage share resisted meaningful erosion, dropping by only half a percentage point.
XP's elimination has become a top priority for Microsoft, as the 12-year-old OS faces a support retirement deadline of April 8, 2014, when the company will serve up XP's final security update.
In April, Windows XP accounted for 41.7 percent of all Windows systems worldwide, down from 42.2 percent the month prior, Net Applications said.
Projections of Windows XP's remaining share in April 2014 did not change. Based on its average monthly loss over the past year, XP will power 30.5 percent of all Windows PCs when the retirement deadline arrives.
Net Applications also reported on usage shares for Windows 7 and Vista.
The former remained flat at 48.7 percent of all Windows PCs, again illustrating that it hasn't been affected by the launch of Windows 8. In fact, most experts believe that Windows 7 will continue to gain share as enterprises abandon XP for it rather than the more radical Windows 8.
Vista slipped slightly in April, but still accounted for more than 5 percent of all Windows' editions.
Net Applications measures operating system usage by tracking unique visitors to some 40,000 websites operated by its customers.