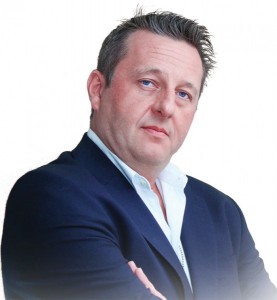 "I've never changed and I pride myself on that. I haven't changed my management style or business principles and I don't intend to. It may mean I have to deal with a lot more issues or push a lot more paper but that doesn't bother me and I expect that of everybody in the company"
"I have worked in the IT industry most of my adult life and moved to the Middle East roughly 22 years ago. The journey from there to here has been fantastic; Dubai has given me my family, my children, money and everything else. The Middle East is home," says Lee Reynolds, MD, Middle East and APAC at ComputerLinks.
Prior to joining ComputerLinks, Reynolds owned Fusion Distribution and before that he worked at an IT agency that looked after vendors that didn't have representation in the Middle East.
He says, "The opportunity for a venture of the sort was huge at the time because vendors venturing into the Middle East and investing in the region without a thorough understanding of the market and the sensitivities wouldn't be the wisest decision. We helped them develop their business plan quarter on quarter with a clear understanding of our responsibilities and those of the vendor."
Reynolds adds that there are quite a few organisations that are still following this business strategy not realising that the ship has already sailed. "This region has developed, most prominent vendors have already established a local presence," he says.
It was during his tenure at the IT agency that Reynolds noticed an opportunity to set up an organisation that focused solely on security distribution.
"I saw the vision of what a security distributor should be, I see a lot of companies in the region claiming to be security distributors but they're not. They don't understand security technology or how the need varies across verticals or organisations. They just have security divisions. ComputerLinks as a group is the largest security distributor in the world, we don't just have one division but are entirely focused on security and we don't really intend to branch out from that. We don't want to be an organisation that collects a huge basket of vendors and does nothing proactive, we strive to add value and satisfy our customers and to enhance the skills of our partners " he says.
Reynolds believes there needs to be an element of entrepreneurship across any position, a trait the company tries to hone within its own employees.
"We empower individuals to be in their own space to make decisions and give them the 'rope to hang themselves'; which rarely happens. We believe this to be an effective management style, so we kind of over view people but don't tell them what to do. I am still involved in the business, I see both my customers and partners, we still touch every part of the business and I am careful to always keep my doors open," he says.
According to him, his management structure is simple with people in every office across every territory. He then appoints a manager across every office and a manager for every territory, these managers report to him. This naturally means that he starts his day off fairly early with offices across Australia, India, Singapore and Hong Kong.  Often starting his day with a call from the company's office in Australia, Reynolds says he likes to stay connected and know exactly what is going on with every aspect of the business.
"I try and meet every new employee. People, products and a clear strategy make a successful distribution company," he says.
His simple instructions to his staff are "Always answer your mobile phone, do your emails in a timely fashion, whatever you say you do; you exceed expectations and commitments"
Reynolds says he enjoys the fast paced rush of the channel. "I especially enjoy it when a smaller organisation becomes a threat to some of the bigger players. In fact, I personally spend a lot of time coaching and mentoring smaller organisations, helping them work out the right strategy. I like a balanced channel that exceeds in skill sets," Reynolds says.
"Never be content. Remember to be successful is one thing, to keep being successful is another. Similarly, to be number one is difficult but to stay number one is even harder," Reynolds concludes.