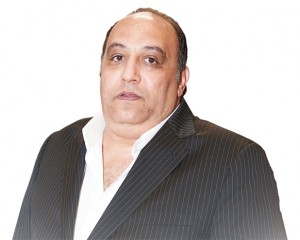 "Understand all aspects of the market, familiarise yourself with economic scenarios in each region. Keep an eye on the bottom line and always remember that a successful business is one that benefits all its stakeholders. This knowledge and familiarity is essential, it will differentiate you from the unprofessional players in the market. The business is not all about making money, it is about people and relationships and if you get your relationships right, the world is your oyster"
Hesham Tantawi began his career in IT in 1986 as managing partner at El Khouly Trading, Cairo, Egypt. The company was initially established to import floppy disks to the country and less than a year began importing PC units in bulk quantities. Soon, El Khouly Trading went on to become an authorised distributor for Microsoft, Seagate, AST, Acer, ALR in addition to other Taiwanese brands to become one of the most prominent distribution companies in Egypt.
It was during his tenure at El Khouly Trading that Tantawi established a relationship with Asbis Middle East and in February 2002, he was initially appointed country GM and was soon promoted to regional sales director. In 2003, having demonstrated professionalism, reliability and initiative,Tantawi was appointed to his current position of VP, Middle East, Africa and Turkey at Asbis Middle East.
Back in 2003, the company reported revenues of USD 20 million, in comparison, in 2011; Asbis Middle East reported revenues approximating 20 million with offices in Algeria, Egypt, Morocco, KSA, Tunisia and the UAE.
In addition to the growth of the distribution company, Tantawi played an, integral part in the development of Dubai Computer Group. Established in 2007 to represent the interests of the computer Industry in the city of Dubai, today DCG represents over 200 IT companies comprising IT distributors, resellers, and system integrators in addition to software and networking companies. In fact, his efforts as a DCG board member lead to the implementation of customs duty exemption on technology products, which represents a significant advantage for all computer companies operating in Dubai.
Tantawi says in his position at Asbis Middle East, he particularly enjoys the ability to create an environment for symbiotic growth. "I believe that a group executive needs to exhibit commitment to his company, to its customers and partners. He must be honest in his efforts and conscious of the impact strategic decision will have on the entire community," he says.
"Having been in the IT industry for more than 26 years, I have seen many players come and go. I have familiarised myself with the intricacies of the relationships and the sensitivities of the various markets we operate in. I have taken the time to invest my knowledge and time in building mutually beneficial and honest relationships with my customers as well as partners. I have focused the company's strategy on assuming the role of a 'trusted partner' not just an IT distributor," Tantawi adds.
According to him, it is this knowledge and focus that he contributes to the company. A firm believer in teamwork, Tantawi believes the organisation is as strong as its weakest link; this is why the company maintains a strong focus on delegation and nurturing talented individuals in the organisation to assume roles of leadership and increased responsibility.
Tantawi adds, that an organisation's revenue generation capabilities alone, do not dictate its success. What's equally important is the ability to maintain long term relationships with partners, customers and vendors. Asbis Middle East opened its doors in 1998 with a few vendors including Intel, Seagate and AMD. The company has maintained these relationships over the years for instance; it has strengthened its relationship with both Intel and Seagate over the last 20 years and with AMD over the last 15 years.
"Not only are relationships underpinned by trust, they are all the more stronger because of the degree of familiarity between us and vendor. Both parties are well aware of the other's growth strategies, they know what we need from them and we know what they expect from us. We work together to reach out to the channel and the transparency and reliability of this relationships isn't lost on the customers who benefits from excellent service," he concludes.