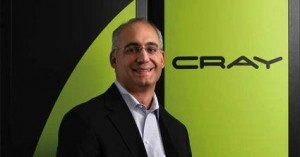 Supercomputer company Cray has created a new division that will sell big-data systems, the company has announced. The division will market its offerings to large enterprises, which will be a new kind of client for the company.
"All of our customers have been in the high-performance computing market. With big data, we wanted to set apart a division of the company really attuned to the enterprise customer," Cray President and CEO Peter Ungaro said.
The new division, called YarcData, will be managed by former Informatica executive Arvind Parthasarathi. Parthasarathi, a new hire for Cray, led the master-data-management business unit for Informatica, which sells business intelligence software. Parthasarathi also worked at Oracle and i2 Technologies.
"There are numerous unmet segments of the big-data market. The approach we're taking is a completely different spin on the big-data problem," Parthasarathi said. Big data is a popular buzzword for the practice of analysing vast stores of unstructured data, a practice favored by competitive Internet services such as Twitter and Yahoo. It's one that increasingly is being considered by enterprises as well.
Parthasarathi did not divulge details about the packages the company will offer. Parthasarathi admits that the company is still "tight-lipped" about any offerings, largely because the big-data division still must design and assemble the specific packages it will offer.
However, the products "will be very suited to the big-data problems and we'll come at it from a very different way," Parthasarathi said. Along with its own hardware, Cray would probably use the Hadoop data processing platform, perhaps through a partnership with an established vendor such as Cloudera or Hortonworks. It also plans to market the offerings to specific industries or application areas.
In at least one respect, a supercomputer maker jumping into the big-data fray is a bit unusual. In a 2010 IDG News Service interview with Yahoo executive Raymie Stata, who oversaw much of Yahoo's development of Hadoop, Stata argued that big-data packages such as Hadoop minimise the need for supercomputers. This is because they allow large-scale analysis to be executed where the data resides (usually across multiple servers), eliminating the computationally expensive operation of shipping all the data to the supercomputer itself.
However, Parthasarathi maintained that Cray could offer advantages in the big-data arena.
"There are a lot of technologies that Cray had developed in the supercomputing world that are very relevant in the big-data process. Our focus is not to just sell another box, but to have business-focused solutions," Parthasarathi said.
Cray's Knowledge Management practice, which is being decommissioned, will form the base of YarcData, and the company will draw employees from other divisions as well, such as research and development, marketing, sales, services and support.
YarcData is not Cray's only endeavor to expand its market base. Earlier this month, the company announced that it is expanding its range of products for what it calls the midrange supercomputing market. The company's new line of Cray CX1000-based systems will start at about $200,000 each and will be marketed toward researchers unable to afford the company's more expensive petascale systems.