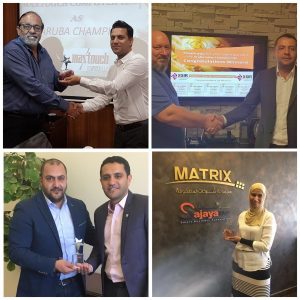 Aruba, a  Hewlett Packard Enterprise company, has initiated the 'Aruba Sales Champion' programme under which the company awards and felicitates top sales performers from the SMB partner community across different regions.
In Q3' 2017 (May to July), sales personnel from Maxtouch Computers LLC in UAE, Click ITS in Egypt, Asir Technologies in Turkey, Matrix Business from Jordan & Al Jeraisy from KSA were awarded the Aruba Sales Champion award.
"The objective of the programme is two-fold – to motivate the sales team and secondly to encourage healthy competition in order to get the best out of our partners. The programme is applicable for select SMB partners who are currently focused on selling Aruba solutions. If any new partner is interested in participating, they are most welcome to do so as well," said Hemayun Bazaz, SMB channel head, Middle East and Turkey, Aruba.
As a part of recognition, the winners receive an Aruba Sales Champion trophy, a gift voucher and are also nominated for attending the annual Channel Sales Academy – an SMB partner focused training event held for three days where key partners are taken to an overseas location and are trained on all the sales solutions.