The Technical Vocational and Training Corporation, headquartered in Riyadh, Saudi Arabia, is the Saudi government's leading provider of technical training in the Kingdom, but lacked a solution to allow its 150 campuses to be connected with access to critical data and information. Huawei's Cloud OS has since linked all campuses to a central educational resource portal, and the company has provided domestic Smartlab facilities as well as training courses at its Shenzhen HQ.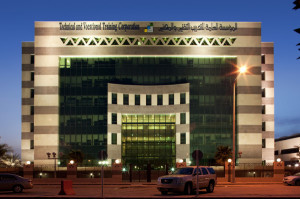 Challenge
As the demand for technical skills in Saudi Arabia intensifies, so too does the pressure on TVTC. With that in mind, the network of centres realised that they needed to provide students with real-time, intelligent access to classroom information and instructional material. With over 150 campuses in the Kingdom, connecting students, instructors, administrators and staff alike was no easy task. "We wanted to provide opportunities for all of our students. We wanted to give them a chance to experience world-class labs and experts," says Sami Al-Hussayen, Assistant Vice Governor, General Directorate for IT, TVTC, "but we have students all over the country, even in rural areas, so access was going to be an issue."
In addition to its current enrolment, TVTC knows that growth is inevitable. "Saudi has an enormous youth population," says Al-Hussayen, "and we are going to need to expand our operations to serve the up-and-coming generation." With that in mind, TVTC knew it would have to create a partnership with a technology vendor that could last, and that they could grow with. They also wanted to provide their students with expanded educational opportunities in the IT industry as the Kingdom shifts into a country that relies on knowledge and technology-based employment.
With the need to develop sustainable, accessible global education initiative and to support a student population that is spread across Saudi, TVTC looked to begin a long-term, collaborative relationship with a trusted vendor that would support their needs. "We wanted to harness the benefits of innovative technology to support our students," says Al-Hussayen.
Solution
The solution was a strategic and lasting partnership with Huawei. More than a simple plug-and-play solution implementation, Huawei committed to working with TVTC in the long-term. Huawei was chosen as the vendor as a result of their previous collaborations with government organisations in the Kingdom, as well as their growing presence as a provider of IT solutions in the region. The relationship between TVTC and Huawei is multi-faceted and has the two organisations collaborating on a variety of academic technological projects and academic programs.
The alliance was officially started with the recent deployment of Huawei's new Cloud FusionAccess solution. A clear choice to meet the current and evolving needs of TVTC, this Cloud Virtual Desktop Infrastructure created a greater accessibility to educational materials and resources for students and instructors alike. A huge undertaking, Huawei rolled out 13,200 cloud Virtual Desktops across the nation. Serving 35 campuses, nearly 600 students and instructors have taken advantage of the new learning system. Soon to be made available to more students, the system allows users to share resources by simply using their smart device.
The partnership also included the creation of smart learning environments and labs, as well as access to experts and training for TVTC instructors and staff. To address the needs of students living in rural areas of the Kingdom, or that are otherwise unable to attend physical classes, Huawei provided remote learning capabilities. "We want students to be able to have access to their classes and course information," says Al-Hussayen, "regardless of their situation at home or their location."
Partnering with Huawei, says His Excellency the Governor of TVTC, Dr. Ali bin Nasser Al-Ghafis, enables the educational organisation to implement fruitful educational initiatives, build new platforms and introduce new educational possibilities for TVTC to develop and offer to prospective students looking to expand their options for the future. In this new, virtualised learning environment, students are able to take on their classes anywhere, at any time.
In addition to physical updates such as the Huawei Cloud Virtual Desktop solution, the partnership has also allowed for new educational experiences for TVTC students. In an effort to not only bolster accessibility to existing resources, but become a resource for students in and of itself, Huawei has confirmed plans to host 100 TVTC IT instructors at Huawei's International Research and Development Headquarters in Shenzhen, China. With a large number of these mentors holding Master's degrees from the U.S. and Europe, the experience will help expand their comprehension of global markets. Huawei also hopes for high-achieving students of each Huawei Academy graduating class to then be offered positions as full-time employees at the Saudi Arabia Huawei offices, or to work with partner organisations within Saudi.
Results
Students attending TVTC classes are able to learn from anywhere in the country on almost any smart device or computer. No longer will physical distance or other obstacles create hurdles for students that may live in rural areas or be unable to reach their local campus. Students have been offered international opportunities, and the possibility of working for Huawei as their first employment post-graduation. Huawei has worked with a number of Saudi universities over the years, and their relationship with TVTC is sure to be a success.