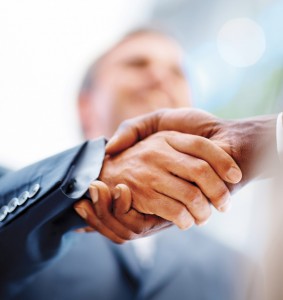 The systems integrator (SI) a company chooses to work with, and the partnerships it forms with it, can make a huge difference to how successful a project is. With that in mind, the selection process in finding the right SI is something that shouldn't be taken lightly. Everybody wants a competent partner they can have a long and effective partnership with. Ben Rossi broaches this process with industry leaders to find out the best and most advisable way to make that happen.
There are a lot of things to consider when choosing a partner. Wouldn't it be easy if there was a simple check list for a company to refer to?
According to Colin Summers, regional director at CommVault Systems, this is an approach enterprises can in fact take – at least in the initial stages of selection.
"Enterprises can refer to a quick check list for identifying the right partner, including references, people, vendor backing and contract, payment and terms," he says.
However, a check list is not going to give a company all the information it needs to make an informed and confident decision on which partner could provide the most long-term value. One key attribute that can be gathered on a potential partner early in the selection process, is whether they have worked on similar projects before and how successful they were.
"For this it is absolutely essential to directly meet with end users to gain feedback about the technical proficiency and professionalism. Such vital information should not be obtained from third party recommendations. Arrange meetings with the team members who you will be interacting with and ensure the partner is ready to commit to deploying a sufficient number of professionals for the project," Summers says.
"It is after all a people business and the success or failure of the project would depend on them. A background check on the level of support and commitment from relevant vendors is advisable. Finally, as with any business arrangement, the contract and payment terms should be acceptable to both parties. If the project stops being profitable to the partners due to unreasonable terms, the implementation will be adversely affected," he adds.
People skills
This reference to it being a "people business" is a key differentiator the industry experts that were quizzed on choosing partners allude to as a prominent attribute for selection.
"Enterprises should look for partners who they relate to and are able to understand their requirements and needs. The people skills are important. Generally people have the same purposes in a partnership, but it is the human approach that makes the difference when selecting a partner," says Reggie Fernandez, director of Gulf operations at Sage Software ME.
The research and 'getting to know' stage of choosing a partner should not be underestimated, according to Shaheen Hague, territory manager Middle East and Turkey at Interactive Intelligence. He claims all too often enterprises choose partners based on limited data that is publically available.
"The result is that important clues are often missed and, more importantly, enterprises fail to discover the companies that could become their most successful partners. Vendors should do their due diligence properly before entering any partnership relationship," he says.
Hesham El Komy, senior manager of partners and alliances at Red Hat, warns if the process of choosing a partner is not managed properly, the partnership will offer little rewards. He too refers to the importance of conducting due diligence, especially in ensuring the capability of a partner.
"One thing that any reputable SI should be able to offer the buyer is a list of current customers, some in the same field of business and others that are not. The vendor should also be able to gain feedback directly from customers on how the project went and if it would happily recommend the SI," he says.
"The second stage should be to get information on the project leader and see what they have worked on successfully. The most important of all is their financial status. If a project gets stalled due to bad finance, that is bad news for all involved and will drive the customer away from the partner and even the vendor for a very long time," he adds.
Capability
Fernandez states that often the number of years in business can be a good indicator towards the capability of a partner, as well as its level of presence in the region, whilst Hague emphasises the importance of asking direct questions to establish what it will be like working with a SI. He cites examples of specific questions that can provide particular insight.
"Of the top 10 projects that the SI has completed in the past 12 months, what was the percentage difference between the original bids and the final cost paid by clients? This question can assist enterprises identify low-price bidders who make their profits off of change orders once they have a foot in the door of a project," Hague says.
"Enterprises should also ask SIs to discuss other projects they have completed in the past 12 months, as well as considering what the SI's strengths and weaknesses are compared to the competition that are being evaluated. Also, aside from money, what does the SI hope to gain by undertaking your project? This information gives you a bit more leverage over the relationship," he adds.
The question of whether the process of choice is different between a partner a company buys from and a partner it implements a solution with draws mixed response. Summers and Fernandez think not, at least in principal. El Komy, on the other hand, thinks for the buyer and end-user company, it is very different.
"For them to select who to buy from is relatively straight forward – they understand what they need, select the key vendor and simply purchase the solution. Selecting the right SI to implement a solution requires a longer term strategic approach by the buyer and the partner alike," El Komy says.
Certifications
When it comes to certifications, the general consensus is that they should not be given too much weight in a company's decision of who to partner with. Fernandez refers to them as "more of a comfort factor."
"It definitely adds value when they are certified, but I think more than certification, the ability of the people to communicate and relate the issues is more important. You can have a certified consultant for a product, but if you cannot translate the product knowledge into business benefits then there is a disconnection," Fernandez says.
Summers adds that the most valuable certification is in fact the feedback from other customers who have worked with each prospective partner. "This reference and feedback would be far more valuable than any certificate," he says. El Komy agrees external certifications aren't very important, and says he believes the key certifications are those of the company choosing the partner.
Something else that is perhaps not as important to choosing partners as a company may think is the use of a proof of concept (POC). Fernandez says that especially with a company like Sage Software that caters to small and medium size enterprises, it is not necessary.
"We cater to most small and medium sized enterprises. It's only when the industry needs some specific things or if the enterprise is not sure about what something is, you can ask for a POC," he says.
"For many organisations POC is the way forward, but for our purpose it is small for demonstration. It is really taken when you want to be sure that it is going to work. A lot of the time a demo or workshop would suffice to those needs," he adds.
Summers says a POC should only be initiated if there is a serious intention to buy and that many companies waste time and resource on conducting POCs when something like a product demonstration would suffice. In those situations where POCs are necessary, he emphasises that they must be conducted in the right way.
"POCs must have clearly written guidelines and objectives. The technical environment must be defined. Too often the POC never gets off the ground because there were different expectations regarding what was to be installed and on what systems," he says.
"The expected performance criteria must also be clearly agreed upon. POCs most often fail because neither party agreed a set of routines and expected results. The judgement parameters must be signed off and accepted by both parties. This will reduce the risk of the POC turning into a two to three week unstructured 'playing with the product', which never ever results in accurate assessment of the product," he adds.
Long term
Once all of these aspects have been considered and the partner has been chosen, the challenge is then ensuring the partnership provides the greatest benefit to both parties and remains a long term endeavour.
To do this, Hague says they should define some basic rules of engagement that should cover a number of things.
"Firstly, background on each party and their objectives and goals – state what each side is looking for. Putting this in writing ensures everyone has been open and honest about their definition of success. Second is the responsibilities of each party, like account management and responsibility for own costs. Neither party should make any commitments without mutual agreement," he says.
"Finally, it should be non-exclusive. Recognise that the SI is in the business of doing these types of projects with many organisations. I would recommend starting with a small project and then building on its success," he adds.
Like any project in business, there are always further challenges involved, says Dan Smith, head of integrated marketing MEA at Xerox's developing markets operations.
"The breadth and volume of potential partners and solutions are huge. To unlock the solution and partner remains the biggest challenge for any enterprise. An enterprise which is clear on what they are trying to accomplish is going to be in a much better position to evaluate the suitability of both a solution and the partner chosen to deploy that solution," he says.
El Komy stresses the importance of regular business planning as "the framework through which all joint activities, relationships at all levels, forecasting, enablement and goals are set, reviewed and monitored." Summers adds that relationships will be successful and long-term when built on "assistance that goes above and beyond the scope of the project."
Fernandez says a partnership should be seen as a "marriage" that should be approached as a long-term prospect. "The key in our business I think is partnering with the long-term in mind. Then it's a question of thinking big and starting small, and being with the enterprise at every step of the process," he adds.
Trust
Whilst choosing a SI and maintaining a healthy relationship is a tricky process that companies should approach carefully, El Komy says he believes true success between partners ultimately comes down to the simple concept of trust.
"The easiest way to form and develop a good working relationship is trust. Working in a transparent fashion is the main tip I can give as this really makes all the difference," he says.
Smith agrees. He says: "By the very definition of partnership it is vital the relationship is forged on trust and integrity from both sides. Open and transparent communication is essential for mutual aspirations and benefits to be derived from the alliance."
Fernandez adds that beyond the relationship itself, business goals should not be forgotten and a company should not take its eyes off of what a SI can do for its business.
"Most of the time the enterprise focuses on the product features and such, but if you see competing products today, most have 80 or 90% of the same features," he says.
"What you want from the partner is the ability to take these features and map them to the need of the enterprise. That is the main differentiator. That's what has made a big difference in our business," he adds.