CNME Editor Mark Forker secured an exclusive interview with Claudio Esposito Aiardo, CEO of Carasti, to find out more about the concept behind the car subscription application that has completely disrupted and revolutionised the way in which we purchase, lease and rent cars in the UAE.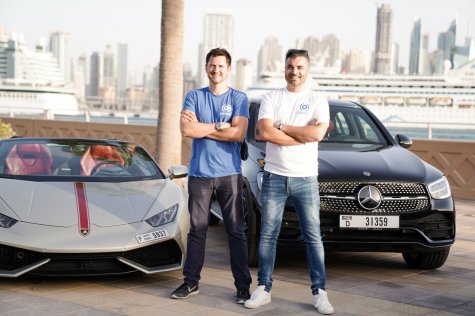 There are some commonalties that we can all relate to as ex-patriates starting a new chapter of our lives in Dubai, and for many of us the exhaustive and laborious process of trying to either buy, or rent a car is one of the major pitfalls of moving to the UAE.
However, Carasti, a car subscription application that entered the market in November 2019, is serving as a welcome remedy for consumers by empowering them with a greater access to higher quality cars on flexibility subscription plans, whilst removing the painful process that traditionally is involved with paperwork when acquiring a car.
"Our business model was essentially borne out of a desire to remove the pain of car ownership, leasing and rentals, because in its previous form there was just far too much unnecessary paperwork, processes and responsibility. When we examined what consumers want, we quickly discovered that they want access to a car that is not shared and that they can keep, but the reality is that most consumers hate the process of buying a car", said Aiardo.
The dynamic CEO of Carasti, explained the primary concept of the car subscription application and essentially what it offers its end-users.
"When you go to market with a proposition that essentially says do you want a brand-new car, or a nearly new car, you have two options, one of which is a mini-lease product that gives you access to brand-new vehicles on 12-24 months plans. Now, whether it is an Audi, BMW, Toyota, or a KIA there is something on offer that caters to every taste and budget, and within a couple of taps on the app, you simply upload your standard documents such as Emirates ID, Drivers License, Passport and Visa Copy, pay for the month upfront and then have your car delivered to your doorstep no questions asked. It is by far the easiest way to access a car in this market", said Aiardo.
Aiardo also disclosed that Carasti has partnered with some of the key rental fleet players in the region on used cars, and then in relation to brand-new cars they have teamed up with some of the most prominent and popular dealerships here in the UAE.
"We act as a broker between the traditional bricks and mortar businesses, which are very strict in their ways of dealing with a consumer directly. We have created this relationship with the key players in the market and we are observing part of that risk to a certain extent and we essentially deliver a better experience, or the best experience that you can get in the market. We deliver that enriched experience not just because of the seamless app experience, but we also have a team of subscription managers, so every subscriber has a dedicated subscription manager", said Aiardo.
When asked was he met with resistance by the dealerships and car rental fleets considering the disruption and transformative nature of the Carasti business model, Aiardo said that their entry into the market came at a perfect time as the automotive industry, like other industries became engulfed in a crisis amidst the onset of the global COVID-19 pandemic.
"When the pandemic struck dealerships and car rentals fleets faced a tsunami in the numbers of customers deciding to terminate their lease agreements, and those that had monthly rentals were cancelling them as many were leaving the country, so it was absolute chaos. At that point they were desperate to find people to support them in growing their business and getting these cars back out on the road. We really leveraged that as a business and were able to negotiate some great rates and that is what really accelerated our phenomenal growth by 200%. We were a very welcome addition to the market as a sales and channel partner, and any resistance that may have been prevalent prior to the COVID-19 crisis was negated by the demand for the services we were able to provide", said Aiardo.
Carasti is the latest example in a shift in consumer spending habits with more and more people indicating a preference for a subscription package over out-and-out ownership. There has been a huge decline in car ownership in the US and UK, and Aiardo was adamant that the subscription model is here to stay!
"By 2030, the majority of people will not own cars, unless they are buying a classic car or maybe a hypercar. Ownership will be pretty much redundant by the end of this decade however people will still want access to a private cars. As the automotive world evolves towards electric and autonomous vehicles we will see a further shift in consumer behaviour driven by the manufacturers since the expense of buying and maintaining these cars will be much higher than the traditional combustion engine and therefore consumers will naturally move to the access not ownership model. You essentially will have a full car as a service solution where you pay your all-inclusive monthly subscription fee and batteries, software updates, servicing, insurance and will all be included and after 2 years you will get the latest and greatest new version of your car delivered", said Aiardo.
Aiardo's background has always been in technology and he has made a career in building customer experience management platforms, having previously worked for Sprinkler and Google.
Under his direction, Carasti recently announced a successful $3m pre-Series A investment round, which only serves to further illustrate the confidence in this exciting new company and the impact it has had on the transportation industry here in the UAE.
Aiardo says the company plans to use the funding to reinforce its strong position in the UAE marketplace before looking to scale.
"We plan to use the investment to solidify what we have already done here in the UAE. We want to bring in people, processes and technology to scale – and once those elements have been implemented we will then look at growing into different markets such as Saudi Arabia, Bahrain, Kuwait and Qatar. We are in a phase now where we are hiring the best talent in the region to enhance our entire offering – and we are also introducing some incredible SaaS solutions, which will enable us to communicate with our customers in a much more personalised way", concluded Aiardo.