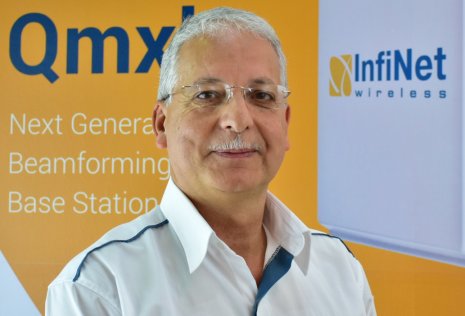 InfiNet Wireless has announced its plans to participate in GITEX Technology Week, to be held in Dubai, UAE from October 14-18.
On display will be Quanta 5, the company's brand new 5 GHz Point-to-Point (PTP) solution, designed on InfiNet's latest Software Defined Radio (SDR) technology. Providing the highest spectral efficiency available in today's wireless marketplace—even when operating in high interference environments, often experienced in many parts of the Middle East —the new Quanta 5 solution is ideal for a diverse range of applications, and more specifically back-hauling for WiFi, LTE and 4G base stations, transmission of high resolution CCTV and video streams, as well as providing internet access to remote locations.
"Based on valuable feedback gained from customers across the globe, including several here in the Middle East, we identified a niche for a cost-effective and high-capacity point-to-point solution to operate in license-exempt frequency bands. Driven by a significant market demand for big data connectivity from various sectors of the industry, and leveraging our advanced SDR wireless breakthroughs, we are now able to deliver a range of carrier grade and even easier to deploy and install solutions, like the Quanta 5, which can meet and exceed expectations on bandwidth demands, reliability and interference mitigation in unlicensed bands. This is only one of the strategic steps we have taken to better cater for the 5G revolution," said Kamal Mokrani, Global Vice President at InfiNet Wireless.
Other solutions on display alongside the Quanta 5 will include the latest generation of the successful InfiLINK XG product family. Available in new frequency bands, the InfiLINK XG is the ideal solution for unlicensed backhauling in multiple bands such as 2 GHz and 3 GHz for legacy WiMAX and microwave replacements, or 4 GHz and 6 GHz which are specific frequency allocations depending on specific countries. Building on these capabilities, the InfiLINK XG 1000 doubles the capacity of the XG up to 1 Gbps. By supporting two non-adjacent 40 MHz channels instead of a single 80 MHz channel, the XG 1000 can provide connectivity over distances in excess of 60 km, delivering unparalleled reliability and scalability to meet both current and future demands.
"Whether it is 5G, AI or blockchain, the Middle East, continues to be an early adopter of innovative technology. Coupled with our firm intention of always pushing the traditional boundaries of wireless technology, this makes the Middle East a strategic market for us and central to our growth plans," said Kamal. "With the launch of Quanta 5, and many other new solutions to follow very soon, we believe we have an even more unique and stronger value proposition for enterprises in the private and public sector. My team and I look forward to sharing our expertise and discussing our latest innovations and success stories from around the world with visitors at GITEX."