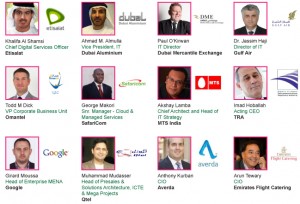 The third annual Cloud World Forum MENA will attract over 40 keynote speakers from the region's top organsations, such as Google, Gulf Air and Emirates Flight Catering, it was announced this week.
The speakers will join hundreds of delegates to share the latest trends, products and concepts related to cloud computing.
Some of the speakers at this year's Cloud World Forum include Girad Moussa, Head of Enterprise MENA, Google, Jassim Haji, Director of IT, Gulf Air, Ahmed M. Almulla, Vice-President of IT, Dubai Aluminium, and Arun Tewary, CIO, Emirates Flight Catering.
The event will be held at Dubai's JW Marriott Marquis from March 19 to 20, hosting more than 35 exhibitors and 500 senior IT professionals, as well as the high-profile speakers, the announcement said.
A number of complementary passes are offered to delegates, who will be able to view talks featuring subjects such as cloud security, applications, communications, virtualisation and CRM.
This year's event will see simultaneous enterprise and telco steams taking place, meaning delegates can choose seminars targeted specifically at their own industries. Delegates will also be given access to the Broadband MEA 2013 symposium, which promises to provide an insight into broadband customer service satisfaction.