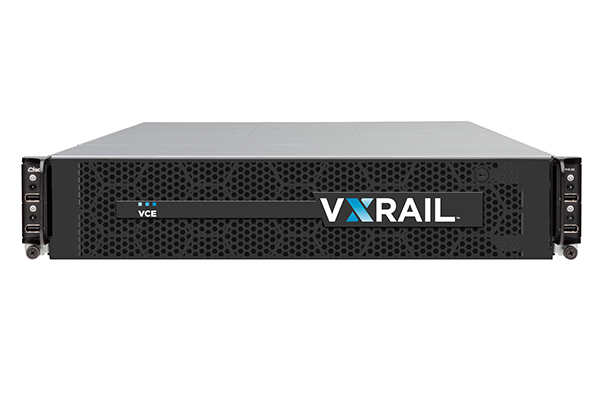 EMC and VMware announced the new VCE VxRail Appliance family, the only integrated and jointly engineered hyper-converged infrastructure appliances (HCIA) for VMware environments.
The VxRail Appliance family brings together the best of EMC and VMware including EMC rich data services and leading systems management capabilities with VMware's leading hyper-converged software that includes VMware vSphere, vCenter Server and VMware Virtual SAN, the simple, powerful, efficient software defined storage natively integrated with vSphere – all in a single product family with one point of support. Hybrid storage or all-flash VxRail Appliances extend and simplify VMware customer environments and deliver key performance and capacity advantages in a simple, turnkey and easily scalable HCIA.
IT organisations tasked with supporting growing business demands for new applications and services with limited budgets and resources don't want to waste time constantly evaluating and integrating hardware, software, and networking solutions, nor do they have time to learn new operational tools and processes. The new hyper-converged VCE VxRail Appliances extend the hallmark benefits of VCE converged infrastructure – increased agility, simplified operations and lower risk – to small businesses, medium-sized enterprises, and department or regional offices for virtualisation and end-user computing use cases.
The jointly engineered VCE VxRail Appliances tightly integrate virtualisation, compute, storage and data protection in one system with a single point of support. Organisations can start small, with a couple of virtual machines (VMs), and easily and non-disruptively scale to thousands of VMs with a predictable, 'pay-as-you-grow' approach. VxRail Appliances are available in a broad set of configurations and scale points. Entry systems for small and medium businesses and remote offices start at a list price of $60,000 and options for performance intensive workloads have more than 76 TB of flash – over 2X more flash than any other hyper-converged appliance.
VxRail Appliances are fully loaded with integrated EMC mission-critical data services including replication, backup and cloud tiering at no additional charge. EMC RecoverPoint for Virtual Machines provides per-VM replication and automated disaster recovery for critical workloads.
"The new VCE VxRail Appliance family puts IT organisations on a path to eliminating complexity and collapsing cost structures with hyper-converged infrastructure while leveraging their existing VMware investments. The VxRail Appliance completes our broad portfolio of Vblock, VxBlock and VxRack Systems to provide customers with a converged infrastructure that meets nearly every workload from the edge to the core regardless of size," said Chad Sakac, President, VCE, the Converged Platforms Division of EMC.
EMC and VMware uniquely simplify the infrastructure lifecycle by eliminating constant evaluation cycles and testing with continuous integration of advancements in x86 technologies and implementation of the latest enhancements to VMware vSphere and VMware Virtual SAN delivering leading efficiency with data reduction technologies – deduplication, compression and erasure coding. The net result: IT organisations can focus more on innovation by creating an automated, dynamic infrastructure that adapts to their business demands.
"With the new VCE VxRail Appliances, powered by VMware hyper-converged software, IT organisations are empowered with a solution that is easy to use and can help them drive innovation as rapid as the business demands. Together, EMC and VMware have worked closely to enable our mutual customers to realise the value of a tightly integrated, hyper-converged solution," said Yanbing Li, senior vice president and general manager, Storage and Availability Business Unit, VMware.