NASA's Captains Mark and Scott Kelly recently spoke at the Majlis Mohamed bin Zayed at a lecture titled, 'The Sky is not the Limit: Life Lessons from NASA's Kelly Brothers,' WAM reported.
The "astronaut twins" lauded the planning that has gone into UAE's Mars mission saying they look forward to the country having its own astronauts soon.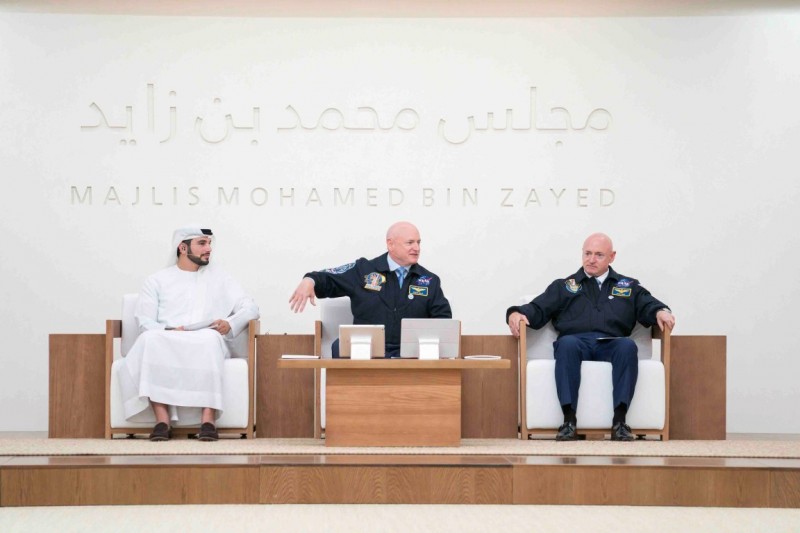 The Kellys also said the country was best placed to build a city on Mars considering it had built such large and dazzling cities in the desert.
Captains Mark and Scott Kelly's career achievements have been as similar as they are remarkable. The Kelly brothers – the only identical twin astronauts in history – have both served as US Navy fighters and test pilots, and both went on to become NASA astronauts. When Scott was about to be sent into space for a year in 2015, his suggestion that he and Mark be used as the subjects of a study into the effects of extended space travel on the human body was readily accepted. Thus, Scott flew to the International Space Station and lived there for 340 days while Mark stayed on Earth. Scientists examined the twins before, during, and after the mission.
One of the biggest challenges of getting to Mars is understanding how a full-fledged mission, which is likely to last three years, might affect the human body. Astronauts are known to lose bone mass and have heightened exposure to radiation while in space, with their vision and immune systems adversely affected during six-month missions. Until recently, no data existed for longer space missions.
The path-breaking Twins Study, the first application of genomics to evaluate potential risks to the human body in space, found that Scott's DNA had not fundamentally changed after a year in space.
However, seven percent of Scott's gene expression – which is how our body reacts to our environment – had altered from its pre-flight levels, a change NASA termed "very minimal".
The NASA Twins Study, its implications for science, as well as the twins' own experiences that shaped their views on teamwork, leadership and overcoming adversity formed the basis of Monday's lecture, The Sky is not the Limit: Life lessons from NASA's Kelly brothers.
The lecture, hosted at the Majlis Mohamed bin Zayed in Abu Dhabi's Al Bateen Palace, was attended by Sheikh Mohamed bin Zayed, Crown Prince of Abu Dhabi and Deputy Supreme Commander of the UAE Armed Forces, as well as other dignitaries.
While science was at the core of the twins' expeditions, it is their life lessons and personal stories from 229 miles above Earth, and the path that led them there which provide valuable perspective on embracing risk and discovering one's true potential to achieve the impossible.
Scott, the author of the New York Times best-selling Endurance: A Year in Space, A Lifetime of Discovery, said he was a terrible student in school, uninterested in science. Then he came across Tom Wolfe's The Right Stuff, an inspiring account of the lives of the trailblazing Americans who first explored space. Reading the book helped him discover his passion for aviation and space and find the motivation to work hard to earn an engineering degree, which led to a career as a test pilot and astronaut.
"We need to stop furthering the myth that maths and science are too difficult, such a belief might be keeping thousands of students from pursuing careers in science, technology, engineering and mathematics," said Scott during the event.
He also shared how he and his colleagues at the space station overcame various challenges, which he termed "the hardest thing we have ever done".
"If we can do this, we can do anything. If we decide we want to go to Mars, we can. If we decide we want to cure cancer, we can.
"If you can dream it, you can do it. If you have a goal and a plan, if you take risks and are willing to make mistakes, you can do it. We can choose to do the hard things, and if we do, then the sky is not the limit."
Meanwhile, after retiring from NASA, Mark – himself an accomplished astronaut who commanded the space shuttles Endeavour and Discovery – has spoken to audiences worldwide about the infinite opportunities that can result from collaboration, teamwork and dreaming big. He speaks of how focus, dedication and persistence can help you tap into your potential to succeed in any competitive setting.