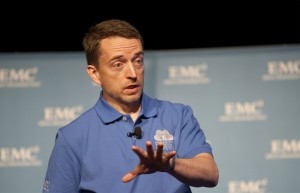 Paul Maritz will step down from his role as CEO of VMware, to be replaced by EMC Chief Operating Officer Pat Gelsinger, EMC confirmed on Tuesday.
Maritz will instead become chief strategist of EMC, which is the majority owner of VMware. The news confirmed rumours of a change in VMware's leadership that had swirled throughout the day.
In addition, EMC CFO David Goulden was appointed president and chief operating officer of EMC, the storage giant said.
"Today we are witnessing an extraordinary transformation in the IT industry unlike anything we have seen before — a major shift to cloud computing, big data applications and delivering IT-as-a-Service," EMC Chairman and CEO Joe Tucci said in a statement. EMC is making the changes to capitalize on the opportunity that presents, he said.
Maritz's new role will take effect Sept. 1, according to EMC. It "grew out of discussions at the board of directors level," Maritz said during a conference call. "In discussing things with Joe and the board we felt this would be a right time to hand over the baton. Pat is supremely qualified to take VMware to the next level of the journey."
Maritz "will be actively directing" new product development efforts in his new role, he said during the call. "I will have my hands on."
Tucci intends to stay on as EMC CEO at least through 2013, and still expects his successor to be chosen from within the company, he said during the conference call.
EMC also announced preliminary financial results for the quarter. It expects to report US$5.31 billion in revenue, a rise of 10%. Non-GAAP (generally accepted accounting principles) earnings per share were $0.39, up 11%, EMC said. The company also confirmed its full-year guidance of $22 billion in revenue and non-GAAP earnings per share of $1.70.