VMware's latest offerings and collaborations at Explore 2023 Barcelona open new horizons for multi-cloud strategies and enterprise AI, transforming digital businesses worldwide.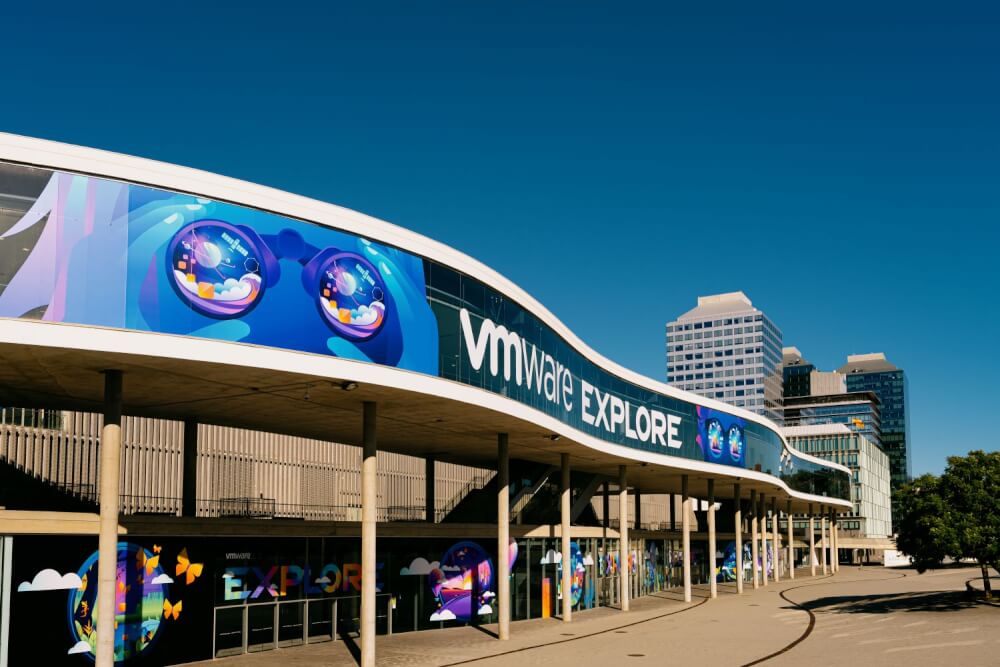 Digital transformation is top of mind for enterprises as they aim to accelerate their pace of innovation. Together with its ecosystem partners, VMware is helping organizations successfully adopt a "Cloud Smart" approach, with flexibility and choice across multiple clouds, to turn multi-cloud complexity into competitive advantage. At the same time, VMware is deepening its efforts to empower customers to adopt generative AI in the enterprise by building on the private AI announcements made at VMware Explore 2023 Las Vegas and establishing new, collaborative initiatives with industry partners.
Bringing the Power of AI to the Enterprise
The potential of generative AI cannot be unlocked unless enterprises are able to maintain the privacy of their data and minimize IP risk while training, customizing, and serving their AI models. VMware has announced new initiatives and expanded partnerships to fuel enterprise adoption of generative artificial intelligence and tap into the value of trusted data, including:
The introduction of VMware Private AI with Intel, a new collaborative effort to help enterprises build and deploy AI models and boost AI performance by harnessing the power of VMware Cloud Foundation and Intel AI software kit, processors, and hardware accelerators.
A collaboration between IBM and VMware to bring IBM watsonx to on premises environments. Clients can combine VMware Private AI and Red Hat OpenShift to help enable fast, transparent generative AI capabilities.
Modernize, Optimize, Better Protect the Multi-Cloud Enterprise​
Today at VMware Explore Europe, VMware announced offerings that empower customers to harness the power of generative AI while modernizing, optimizing, and better protecting applications, operations and data across any cloud. Highlights include:
The introduction of VMware Data Services Manager, which empowers IT to manage data services running on VMware Cloud consistently and more securely, and new VMware Cloud Foundation advancements that provide benefits for modern AI/ML and generative AI workloads.
Google Cloud AlloyDB Omni as the first 3rd party PostgreSQL-compatible database natively integrated with VMware Cloud Foundation through VMware Data Services Manager and VMware vSAN.
Comprehensive prevention, detection and recovery from ransomware with the tech preview of VMware Intelligent Threat Detection and the introduction of VMware Live Recovery.
With more than 50 partners globally, VMware Sovereign Cloud now includes new developer, data, and security services such as integrated data services through VMware Cloud Director and ecosystem partners and expanded capabilities within developer-centric tools like VMware Tanzu and VMware NSX to enable rapid application delivery with precise controls around data flow.
New updates to Spring, the leading Java development framework, plus enhancements across Tanzu Application Platform, Tanzu Data Solutions, and Tanzu Intelligence Services that will help teams develop, operate, and optimize higher-performing applications more quickly, cost effectively, and securely.
Simplify, Better Secure, and Modernize Edge Environments
Enterprises and Communications Service Providers are seeking ways to simplify, better secure, and modernize their edge environments. VMware is introducing new innovations to help customers accelerate software-defined edge adoption, including:
New VMware Edge Cloud Orchestrator telemetry capabilities to provide insight and visibility into edge workloads, identify end devices.
Intelligent Assist for VMware Software-Defined Edge to operationalize connecting, securing, and managing workloads, users and IoT devices at the edge.
An expanded Microsoft and VMware collaboration to enable VMware SASE customers to use Microsoft Security Copilot, a tool focused on identifying threats and anomalies leveraging the power of generative AI.
New Workflow Hub for VMware Telco Cloud Automation to support the rapid rollout of cell sites.
Initial integration with Symantec Cloud Secure Web Gateway to better secure the software-defined edge.
Empower and Better Secure the Hybrid Workforce
VMware has launched advanced automation capabilities and new third party integrations delivered through the Anywhere Workspace platform that provide organizations with the tools needed to simplify IT workflows, enhance security, and improve overall efficiencies. Updates include:
The introduction of next-gen Mac management to simplify IT workflows and reduce costs. VMware is announcing Hub Health, new third party security baselines, and a new updates management dashboard for macOS To further establish a self-healing, self-configuring, and self-securing autonomous workspace.
An expanded Workspace ONE integration partnership with Intel to automate the detection of vulnerabilities at the hardware, firmware, and driver level.