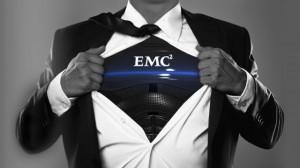 EMC today introduced the world's first software-defined storage platform at its annual flagship event, EMC World 2013 in Las Vegas.
EMC ViPR, which will be generally available in the second half of 2013, allows organisations to drive "groundbreaking improvements" in automation and lay down a modern storage architecture for future application deployments, the company said.
The platform is designed to help service providers and enterprises deal with the vastly growing information their data centres have to handle in a simple and affordable way.
To do that, it allows them to drive towards the operational model of Web-scale data centres without hiring thousands of technical experts to build a custom environment.
ViPR manages both storage infrastructure (the 'control plane') and the data stored within that infrastructure (the 'data plane'), and decouples them from each other to allow the use of both together. Customers can also use only the control plane to manage the underlying intelligence of the storage arrays through policy-based automation, which EMC called a "radical departure" from prior attempts to virtualise storage.
Furthermore, the platform offers the ability to view objects as files, and provides file access performance without the latency inherent to object storage. It also provides the capability to be implemented entirely in software, and will run against EMC, non-EMC and commodity hardware.
"Building the Web-scale data centre is critical for service providers and large enterprises," said Amitabh Srivastava, President, Advanced Software Division, EMC. "The rise of the software-defined data centres is a groundbreaking step toward delivering the management and performance capabilities needed to protect and leverage data.
"Only by separating the data centre from its underlying hardware can IT truly deliver resources as customisable, on-demand services. As the only solution on the market today, ViPR is able to support IT services in a heterogeneous storage environment while retaining and extending the value of underlying arrays. This is a game-changer for storage."
EMC is essentially doing for storage what VMware has already done for servers — abstracting, pooling and automating the infrastructure.
Pools of storage created with EMC ViPR will leverage VMware APIs to simply appear as an array within VMware vSphere.
In addition, the ViPR controller will integrate with the overarching VMware SDDC management and orchestration tool, vCloud Automation Center, as well as vCenter Operations Manager.
In this way, storage can be managed by ViPR as an entity in its own right – and surfaced into the Microsoft and OpenStack virtual environments – or as an integral part of the VMware Software-Defined Data Center.
First and foremost, EMC ViPR is designed for cloud environments, and specifically service providers. However, the company is also touting it as suitable for the many enterprise IT departments that are transforming themselves to offer IT-as-a-service and building out internal Web-scale clouds.
With this in mind, ViPR has a globally distributed architecture — enabling IT departments to avoid moving massive amounts of data across the network and perform functions like "in-place" analytics. The ViPR platform scales out as devices and data grows with no single point of failure, and provides an entirely self-managing and self-provisioning environment, EMC said.
"Through the software-defined data centre, VMware is extending the benefits of virtualisation to all areas of IT infrastructure beyond compute to networking, security, management and storage," said Raghu Raghuram, Executive Vice President, Cloud Infrastructure and Management, VMware.
"With EMC ViPR and VMware solutions, organisations are able to get more value, automation and simplicity out of their storage infrastructure through integrated systems and software innovation."
CNME Editor Ben Rossi is reporting from EMC World 2013 in Las Vegas. You can follow live updates on Twitter at @ComputerNewsME and #EMCWORLD.