While Windows 8.1 promises many changes from Windows 8, one thing that will remain the same is the price to U.S. consumers.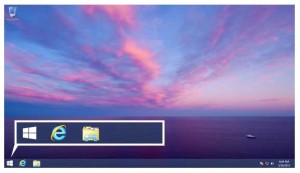 For people who are on Windows 7 and previous editions of the OS, the standard version of Windows 8.1 will cost US$119.99, while the Pro version will be priced at $199.99.
Windows 8.1 will be for sale as a download from Windows.com and at retail outlets in DVD format, Microsoft said on Tuesday. Prices in other countries may vary, the company said without offering further information.
Those who already have Windows 8 can install the Windows 8.1 update for free via download from the Windows Store starting on October 18, when it becomes commercially available.
One difference this time around is that the copies of Windows 8.1 that consumers will buy will be "full version software," as opposed to Windows 8, which has been sold as an "upgrade version."
As such, Windows 8.1 will offer more deployment flexibility for buyers, simplifying certain scenarios, including building a PC from scratch and running the OS in virtual machine environments, Microsoft said.
"This eliminates the potential for licensing confusion and frustration around upgrading from Windows XP or Vista to 8.1 and, Windows 7 to 8.1," said David Johnson, a Forrester Research analyst, via email.
When upgrading from Windows 7 to Windows 8.1, files will be transferred automatically but users will have to manually reinstall desktop applications, including Office.
For people running Windows XP and Windows Vista, the situation is even more dire. Microsoft doesn't recommend that those devices even be upgraded to Windows 8.1 at all. If they must, the company suggests buying a DVD copy and doing a "clean install," which means wiping out all files, settings and programs and then reinstalling them from a backup.
People who buy a new Windows 8.1 machine this year will get the option to upgrade to the Pro version with Windows Media Center for $99.99, the company said.
The Windows 7, XP and Vista upgrade difficulties, and the extra money required for the Pro version will significantly harm Windows 8.1's adoption among consumers and indirectly in enterprises because it interrupts the BYOD (bring your own device) dynamic, Johnson said.
"How many people are organized enough to still have their original software installation media for their apps?," he said.
Few enterprise IT departments are upgrading Windows 7 machines to Windows 8, so the main vehicle for the new OS to get to workplaces has been through personal tablets and laptops employees bring from home, according to Johnson.
"What I believe Microsoft needs more than anything else is more widespread adoption of Windows 8.x in business, and when the primary vector of adoption is employees bringing them to work, it makes zero sense to me to put a $100 barrier in that adoption path," he said. "It tells me that Microsoft still hasn't figured out what consumerization means for their device and OS business."
In a separate blog post on Tuesday, Microsoft also announced it has made available the RTM (release to manufacturing) pre-release version of Windows 8.1 to developers who subscribe to MSDN (Microsoft Developer Network) and to IT pros who subscribe to TechNet, including Volume License customers with an active Software Assurance (SA) agreement. This gives these IT pros and developers a time buffer to test their applications and their IT environments ahead of the final release of the OS in mid-October.
Windows 8, which started shipping October of last year, sports a radically revamped user interface called Modern. It also comes with a more traditional Windows 7-like desktop for legacy applications.
The Modern interface, based on tile icons and optimized for touchscreen devices, was designed to make Windows a better OS for tablets, a segment of the market where the Microsoft OS has faltered at the hands of Android and Apple's iOS.
Sadly for Microsoft, the Modern interface hasn't been a hit. In particular, many enterprise and consumer buyers of Windows 8 laptops and desktops complained that it was hard to navigate and inconvenient to use with a mouse and keyboard.
Microsoft hopes to address the main complaints with Windows 8.1. For starters, it's adding something very close to the Windows 7 Start button, which the company took away in Windows 8, triggering an outcry.
In Windows 8.1, toggling between the Modern and traditional interfaces will be smoother. Many users have described the interplay between the two interfaces in Windows 8 as rough. It will also be possible for Windows 8.1 users to boot directly to the traditional desktop interface if they prefer, whereas booting to the Modern interface is the Windows 8 default.
In Windows 8.1, users will be able to view all the applications installed on their device and sort them by name, date installed, most used or category. The OS update also has an enhanced search engine powered by Bing that will return results from a variety of sources, including the Web, applications, local files and the SkyDrive cloud storage service.
Windows 8.1 also comes with Internet Explorer 11, a new version of Microsoft's browser that the company has said will load pages faster and offer better performance in touchscreen mode.
Other Windows 8.1 enhancements include the ability to make a Skype call and take photos with the Windows 8.1 device while the screen is in Lock mode without having to log in. It will be possible as well for users to select multiple applications at once and perform bulk actions on them, like resizing, uninstalling and rearranging them.
Originally published on IDG News Service (Miami Bureau). Reprinted with permission from IDG.net. Story copyright 2018 International Data Group. All rights reserved.