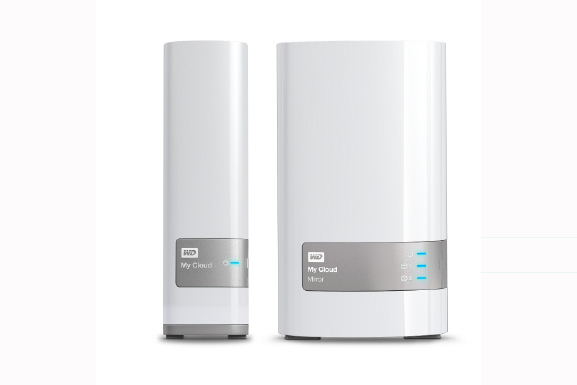 WD's new My Cloud personal storage device gives its other storage solutions stiff competition. With sync support between Google Drive, Dropbox and other public clouds, having a private, at-home cloud is made simple.
Western Digital's My Cloud is a powerful, yet relatively simple to use device. The Gigabit Ethernet read and write speeds outpace the latest 802.11ac wireless standard, so in order to experience the devices full potential, the user will need a wired connection. As far as functioning as a cloud storage service, the free downloadable app boasts a clear and easy to use interface which makes the My Cloud's cloud services a worthwhile contender with public counterparts such as Dropbox or Google Drive.
The obvious advantage to the popular online services is the lack of subscription fees and the fact that with My Cloud, data can be stored in the cloud without passing through any third-party companies. One drawback of the mobile app is the lack of integrated media player. Users are forced to rely on the media player for-mats supported by the device they're using for playback. This can prove a difficulty for iOS users. The My Cloud mobile app support data transfer and syncing content between Google Drive, Dropbox and other cloud storage services, which makes for an ease of integration. While the My Cloud offers the ability to automatically back-up, store, and stream data across all of your computers and devices, it is a single drive device which means it cannot back itself up. This lack of redundancy can be a turn-off to those with critical data, however My Cloud does offer the ability to automatically back-up to USB or network storage as required through its Safepoints system.
A multi-functional device like this might give way to woes about set-up. However, Western Digital made setting up the device virtually fool proof. It's as simple as plugging it in, con-necting to the router and using the easy-to-follow wizard. Even the most novice tech-users will be able to navigate the set up process and create their own cloud storage network. The same ease-of-use and intelligence of design can be applied to the browser user interface used to navigate the My Cloud drive. The Dashboard offers an attractive array of information from drive capacity and health to connected devices.