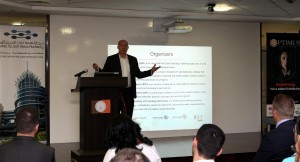 Dubai Silicon Oasis Authority (DSOA), in collaboration with Optimus Technology and Telecommunications, yesterday announced that the second Silicon Oasis TechForum networking event will highlight latest technology trends in addition to providing a platform for industry professionals, academics and students to network.
Scheduled to be held on tomorrow at DSO-based Rochester Institute of Technology in Dubai, the event will feature experts such as Steffen Reisacher, Market Development Lead – MENA of SAP, John Lincoln, Vice-President Marketing (enterprise segment) of DU, and Mark Prosser, Mobility Business Unit Head of Acer.
Ghanim Al Falasi, Senior Vice-President, Corporate Services at DSOA, said: "Following the success of our inaugural event, we are pleased to host the second Silicon Oasis TechForum. Through the event, we seek to continue promoting entrepreneurship, innovation and technological development through providing interested professionals with a platform to share ideas and support each other's business. Additionally, the event will serve as a forum for connecting with industry experts who will offer insights on latest technology trends and share their success stories."
The second Silicon Oasis TechForum networking event will cover topics such as '40 years of re-innovation in providing real-time data' by Steffen Reisacher, 'The Economics of Cloud Computing for SME's' by John Lincoln, and 'Mobility Technology Trends' by Mark Prosser.
Meera Kaul, Managing Director of Optimus Technology and Telecommunications, said: "Silicon Oasis TechForum aims to connect thought leaders and industry experts with aspiring entrepreneurs and innovators. Using our vast resources, we are committed to ensure that we bring only the best speakers to share knowledge, experiences and global best practices with local industry professionals and students."