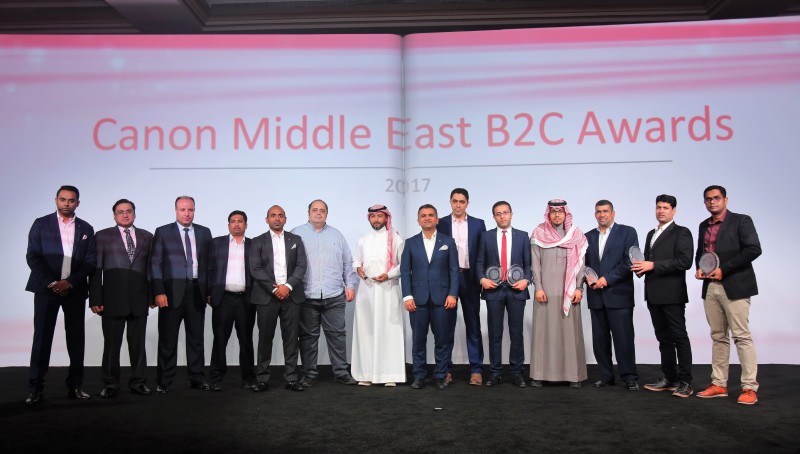 Canon Middle East, has reinforced its commitment to KSA channel partners at its annual Imaging Inspired event. Held at the Mövenpick Hotel Riyadh, the event brought all its KSA channel partners under one roof highlighting 'business performance and innovative selling practices.
The event, held under the theme 'Be Story Ready', celebrated the achievements of channel partners in the Kingdom in the last year with an award ceremony with over 150 key Canon channel partner attendees.
Venkatasubramanian Hariharan, B2C Business Unit Director, Canon Middle East said, "Our partners represent our brand in-market in the Kingdom, and our partner community is seeing accelerated growth and success with the broad Canon portfolio. As a leader in the imaging and business solutions category, it is essential for us to empower our partners and end-users with the best technological innovations of the future. These annual awards serve to recognise innovation and success, and also inspire the community to play a part in every image in the Kingdom."
Securing the Canon Middle East Performance Awards this year was prominent regional retailer Jarir Bookstore in the DSLR & Lens category, as well as the Cameras & Selphy section. Acknowledging retailers for their innovative selling practices, Canon awarded the regions electronics giant eXtra for Best Customer Experience & Display, Best e-tailing & Social Media Collaboration, and recognized its performance in the inkjet category of printers. Al Ajyal secured the award for Innovative Selling Concepts.
Al Ghamdi won the award for the laser category of printers while Phone for Communication was awarded for their performance in Printer Consumables category.
The company also introduced its channel partners to Canon's Cloud Services that are designed to bring people closer together: Irista, a cloud-based image management platform that stores files (images and videos) at full resolution, and a photo-sharing cloud-based platform called Lifecake, which is targeted at young mothers and mothers-to-be.
"In addition to building and sustaining relationships with our channel partners, the new brand proposition 'Live for the story' encourages them to better serve the growing demands of consumers and helps tell the best stories of their life. Through its renewed product ecosystem of Shoot (Cameras), Remember (Cloud Services) and Share (Printing), Canon plays an integral part in the consumer's imaging journey," added Hariharan.
The company has recently expanded its partner programme and eServices in the Kingdom of Saudi Arabia to facilitate innovation, drive business growth and deliver success for partners and customers