Virtustream, the enterprise-class cloud software and solution provider under Dell Technologies, is utilising GITEX to demonstrate its abilities in hosting multi-tenancy cloud infrastructures in the most complex enterprise workloads.
Working with Middle East-based customers, such as Morohub in the UAE and Mobily in Saudi Arabia, Virtustream is leveraging its local presence to serve new customers in the region through these partnerships.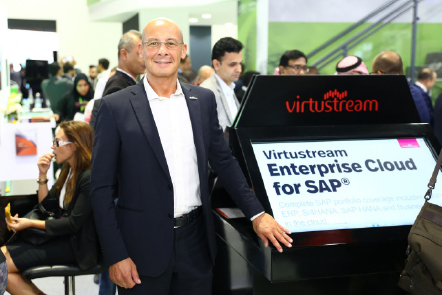 As organisations in the region wake up to the benefits of moving to the cloud, Roberto Mircoli, CTO at Virtustream, believes that while there is definitely an understanding of the IT transformation that needs to take place in virtually every sector right now, there is a need to give organisations a helping hand in this transformation's implications and the real benefits they can reap from it.
"Enterprises now so often have such critical data involved in their day to day business processes, that we're now seeing a huge demand for the solutions that we can provide in securing these mission critical applications in a pragmatic way," said Mircoli.
He went on to add that ensuring cloud security is "at the core" of Virtustream's objective, and something that he is "religious" about.
"When I meet with CIOs, CTOs, and even CEOs in this region, I talk them through the steps to make their journey to the cloud proactive, and not reactive," he said. "But when it comes to cloud security, we're dedicated to provide our customers with next level protection. We combine our experience on migrations to the cloud for thousands of customers globally and bring that knowledge to the customers that we are serving here."
He added, "We would not be in this business if we could not guarantee or exceed the expectations of security and performance for these mission critical workloads that our customers previously had with their private or on-premise deployments."
Looking ahead to 2019, Mircoli said that he expects the digitisation wave to continue across the board – spanning all verticals and geographies in the Gulf. "The real potential that the region's CIOs are seeing in migrating to the cloud is that they can offload the complexities of their IT environment, and redirect their internal IT resources to create more value and drive the organisation's innovation and transformation strategy," he said.