CNME Editor Mark Forker managed to secure an exclusive interview with Cherif Morcos, Vice President of Digital Business Solutions at Gulf Business Machines, to find out how his company is helping their customers become more resilient, the impact its Journey 2 Cloud (J2C) framework is having in the market – and why GBM remains a trusted partner for digital transformation across the region.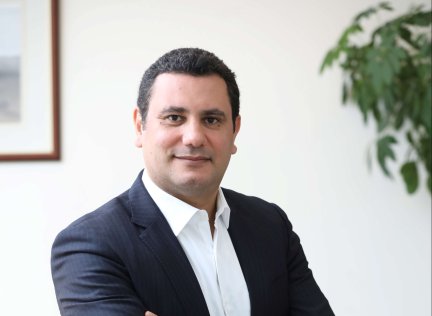 Cherif Morcos is undoubtedly one of the most respected and revered IT executives in the Middle East. The popular tech business leader has enjoyed a distinguished career and is seen as a prominent thought leader in the IT ecosystem across the region.
In this month's edition of CNME, Morcos features as the subject of our front cover interview, and he doesn't disappoint, as he talks everything from cloud, to NFTs, to digital disruption in a candid conversation.
We kickstarted the interview by talking about the disruptors that have forced many businesses across multiple industry verticals to completely transform their operating model.
Morcos was a keynote speaker at an event hosted by IDC, where GBM was a strategic partner. His presentation discussed how disruptive the pandemic has been for businesses globally, but he highlighted some other digital disruptors that are triggering changes in the digital world.
"I believe that prior to the onset of the pandemic businesses were already being disrupted by the adoption of new digital operations. A current example of this is through the advent of NFTs (Non-Fungible Tokens). An NFT just sold for $69m, and this digital piece of art has completely disrupted the traditional physical art industry in a way that nobody could ever have foreseen. Another example of disruption is in the form of quantum computing. The force that quantum computing is going to bring to businesses, and what it will allow them to do is a whole different world from what we see now. As these computing models mature, they will bring equip organisations with the ability to analyze data in ways they did not previously know about, but all these disruptions are inevitably impacting the business resiliency of a company," said Morcos.
Morcos then defined what he believed was business resiliency and explained in detail the fundamental components that are required to achieve it in the ever evolving and complex digital economy we find ourselves immersed in.
"I believe business resilience to be the capacity of a company to adapt its operating model to whatever disruption it encounters, be it external, internal, competitive, or customer based. It shouldn't be an issue if they have an operating model that is capable to adapt fast enough to be ahead of the curve, and not completely fall off a cliff. If they can develop such an operating model, then in my opinion they are on the right path to achieve business resilience," said Morcos.
The VP of Digital Business Solutions at GBM said that it was simply not possible to achieve this level of resiliency without thinking about your company as being 'digital first' – and highlighted that businesses' need to be agile and resilient like never before.  
"If you don't have the right systems, and the right access to data, and interconnected systems in your back-end environment to support your operations then you will not survive. If you don't have these digital capabilities, then you can't achieve business resilience, it really is becoming that black and white. One other important thing to note is that a lot of these disruptors are digitally native, we know this is happening in the business world now and is going to continue to happen more and more in Industry 4.0, as we are living in a decade of disruption. We urge our clients, whom I like to call partners to accelerate their digital transformation and GBM is here to help. We offer AI and analytics and can accelerate the cloud journey in a decade of disruption," said Morcos.
GBM recently launched a comprehensive report that surveyed CIOs and business leaders from across the Middle East to find out what cloud model they preferred. More than half of those that participated in the report said they preferred a hybrid/multi-cloud approach. Morcos outlined why he believed this was the case.
"Organisations are increasingly adopting cloud platform-led investment strategies that help to instill a culture of innovation and continuous transformation, underpinned by cloud-native application deployment to deliver a digitally capable customer experience. From a GBM perspective we believe that the optimum model is a hybrid-multi-cloud model. This model allows enterprises to have the scalability they need pertaining to the different workloads they have. I think initially the viewpoint was that public cloud was going to be the answer to everything, but then obviously a lot of organisations specially in the region were constrained by a combination of regulatory and data sovereignty requirements," said Morcos.
However, he highlighted that 25% of those surveyed stated that they will still use private cloud, and as Morcos outlined they would have very good reasons to do so.
"Financial institutions for example can use cloud computing for certain workloads, but the data remains in-country, regulatory authorities might not be ready for certain types of data being shared in a public environment, so it helps them to have datacenters of hyper-scalers across the region. This is where the hybrid model kicks-in because you have computational power that maximises public cloud and all the capacity that comes with it, but you can also run an on-prem private cloud and merge them both," said Morcos.
GBM have crystalised years of customer experience to create the J2C framework, which takes into account the customers' individual business model and capabilities.
"It's a methodology and a model that we firmly believe in, and we encourage our customers to start the discussion from the very top with something that we call design thinking workshops. We take them through a comprehensive roadmap in terms of infrastructure, data, and the applications that they need to successful adopt their business model to the cloud. Since we launched the framework, we are starting to see a real uprise in adoption, and then are saying to us that they never thought about it as an overall plan, but the framework has prompted them to change their thinking in relation to cloud and their strategy. The J2C framework is going to bring us closer to them, and it will allow us to better understand their challenges" said Morcos.
GBM is one of the most reputable system integrator companies in the Middle East, and since its inception over 33 years ago, it has continued to enjoy fantastic success in what is an ultra-competitive market. According to Morcos, a key component in their success is the trust that customers have in GBM as a company.
"We have been in the region for 33 years and during that time we have built a reputation for being a trusted partner for the IT community here in the Middle East. We have helped our customers revolutionise their entire IT spectrum over the last 30 years. That gives us a phenomenal knowledge of their business and understanding as to how they have transformed over the decades. However, it is also very important to highlight that GBM has undertaken its own revolution over the years. We are in the middle of our own transformation and in many cases, we are applying what we preach to our customers," said Morcos.
Morcos concluded a wonderful and fascinating interview by conceding that whilst they may not be creating these technologies that are transforming industries, he reinforced the key role that GBM play as one of the region's top systems integrator in helping their customers leverage and harness the power of these disruptive technologies.
"GBM brings an unbiased profiling of IT solutions to it clients that better fit their needs. At GBM, we pride ourselves on the fact that whilst these large organisations that we represent create these technologies and applications, we believe the role of GBM in the region is adapting these technologies to the actual needs of the local markets and customers. We are locally owned, but we have the international and global maturity, knowledge and experience of these technologies and 1000+ SMEs in the region, and that us a major market differentiator for us. Our customers trust that what we propose to them will work, and if it needs support then we will fix it," concluded Morcos.