Facebook has announced that it is launching a new video focused platform, whereby users can watch TV shows on the social media site.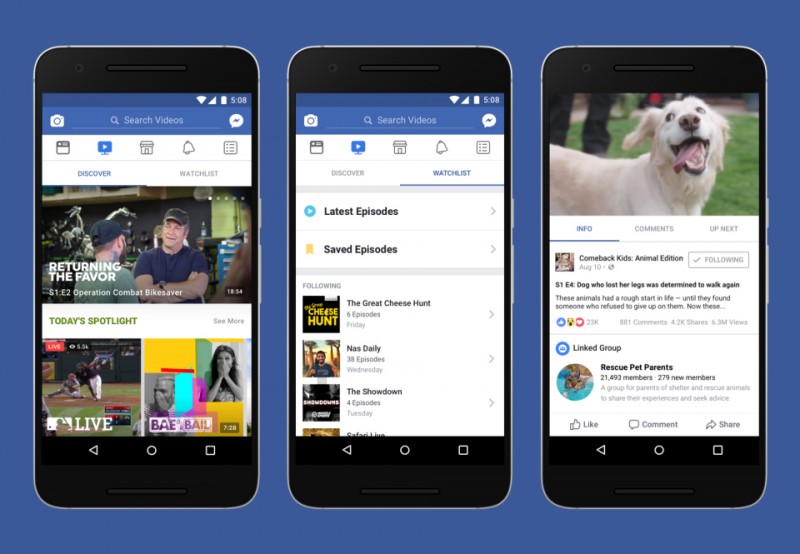 According to a blog post released by the company, 'Watch' will be made available on mobile, desktops, and in Facebook's TV apps. Shows are made up of episodes – live or recorded, and the feature aims to be a platform for "all creators and publishers to find an audience, build a community of passionate fans, and earn money for their work."
Watch is also personalised to help users discover new shows, organised around what their friends and communities are watching. For example, users will find sections like "Most Talked About","What's Making People Laugh", which includes shows where many people have used the "Haha" reaction, and "What Friends Are Watching," which helps users connect with friends about shows they too are following.
"Watching video on Facebook has the incredible power to connect people, spark conversation, and foster community," said Daniel Danker, director of Product, in the Facebook blog post. "As more and more people enjoy this experience, we've learned that people like the serendipity of discovering videos in News Feed, but they also want a dedicated place they can go to watch videos. That's why last year we launched the Video tab in the U.S., which offered a predictable place to find videos on Facebook. Now we want to make it even easier to catch up with shows you love."
He added, "We think Watch will be home to a wide range of shows, from reality to comedy to live sports. To help inspire creators and seed the ecosystem, we've also funded some shows that are examples of community-oriented and episodic video series. For example, Returning the Favor is a series hosted by Mike Rowe where he finds people doing something extraordinary for their community, tells the world about it, and in turn does something extraordinary for them. Candidates are nominated by Mike's fans on Facebook."