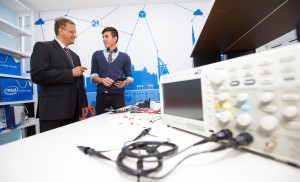 Intel and Dubai Silicon Oasis Authority have announced the inauguration of Intel's Ignition Lab for the Internet of Things innovation for the MENA region.
Located in Dubai Technology Entrepreneurship Centre (DTEC), DSOA's technology incubation centre, the lab will collaborate with local companies in promoting IoT developments.
The Dubai-based Ignition lab will focus on the pillars of smart cities and smart transportation.
Intel is also developing a smart home solution to deliver the hardware, software and cloud services tying multiple device ecosystems into a single end-user experience.
Commenting on the new milestone, Dr Mohammed Alzarooni, Vice Chairman and CEO of DSOA, said, "The opening of Intel IoT Ignition Lab is a new milestone that we are confident will add significant value to start-ups and entrepreneurs that have opted for DTEC as their incubation centre of choice and co-working space. This lab will not only serve as a creativity and innovation stimulator, but will also function as a melting pot for ideas in the promising Internet of Things space and provide a launch pad to bring radical ideas to reality, regardless of the pillar they fall under."
Nassir Nauthoa, General Manager Intel Corporation Gulf Countries, said, "Globally, market opportunities and solutions around IoT continue to gain more prominence. We believe that the growth potential for IoT in the UAE market is huge given the move towards implementing the Smart City concept. We look forward to working with local companies and partners to explore ways in which we can help to make our environment a smarter place to live, work and play."