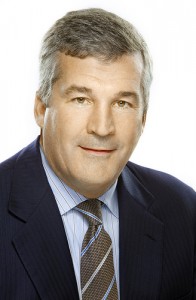 EMC describes itself as a "global leader in enabling businesses and service providers to transform their operations and deliver Information Technology as a service. Through innovative products and services, EMC helps IT departments to store, manage, protect and analyse their most valuable asset — information — in a more agile, trusted and cost-efficient way."
CEO and chairman, Joe Tucci pointed out that in his 40 year career in the IT industry he has witnessed infrastructures, applications and end user devices go through transformations. "But never have I seen one go through transformations exactly at the same point in time. So, this new layering of IT represents massive change, equalling massive opportunity," he writes on the company Website addressing the wave of change cloud computing technologies seem to be bringing to the table.
Recently, Bill Scannell, the company's executive vice president, for Europe, America, Middle East and Africa (EMEA) was in Dubai to study the scope of the organisation's mushrooming growth in the region in addition to analysing EMC's current and future investments and building the regional team.
Addressing the purpose of his first visit to the Middle East since taking charge of his role, Scannell said, "EMC just announced its second quarter revenues and while we now have a 35% market share in this region and a 35% market share globally, we look at this as opportunity to attract the remaining 65% of the market by showing customers the benefit of working with EMC. The Middle East and Africa are particularly high growth regions for our organisation and so it is essential to understand where this growth is coming from and what investments can be made in the future to continue this trend or even accelerate the rate of EMC's growth in this region."
He believes that EMC's worldwide success is no game of luck but the fruit of proactive decision making and labour, "We have the best, brightest, hard working people and technology that is second to none. All this doesn't come by luck; we consciously invest almost 12% of our revenue in research and development on top of which we are very acquisitive. Over a span of five years, we have gone about making strategic purchases that include both small companies and larger players, focusing on vertical acquisitions to deliver specific customer requirements," Scannell said.
Scannell pointed out that EMC's formula for exemplary growth in the Middle East is to add resources, sales and technical people and leverage EMC's equally strong channel community. "This is essentially a 1+1= 3 approach where we combine EMC technology, with the skills of our people and our partners to develop solutions that harness opportunities created by a market of change to deliver maximum customer satisfaction," he explained.
The aim, as Scannell pointed out is twofold, EMC not only works to help organisations manage challenges associated with data deluge but also focuses on making conversations regarding IT investments, budgets and ROIs easier. "We understand that IT professionals often have to deal with unpleasant conversations justifying IT expenditure and we want to be able to help them by developing solutions that are scalable to fit their business needs. We have gone from being a technology provider focused on larger organisations to one that caters affordable and efficient solutions for medium sized companies as well as start ups," he explains.
According to him, the three trends that seem to be paving the way for new developments in technology are big data, cloud computing and security. "Cloud computing in all its forms is probably the biggest trend we've seen in the last 20-30 years," he points out. "The most credible concern that customers have in relation to the cloud is in regards to the security of their information in the cloud," he added.
Scannell highlighted the fact that this security concern is the strategic reason behind acquiring firms like RSA, "since purchasing RSA, we have gone about purchasing 15 or so security companies surrounding that division and can confidently say, that we are uniquely positioned and qualified to protect our customer's most critical asset- information," he said.
He believes that Infrastructure-as-a-service(IaaS) is perhaps the most popular cloud service due to the fact that it gives organisations  the ability to scale IT requirements based on workloads. "Most organisations face challenges during peak workloads and IaaS offers them the ability to scale up or down to meet their unique requirement during differing workloads. Not only does this result in better use of the technology investment but it also enables organisations to lower their capital expenditures," he explains.
Scannell also pointed out that the private cloud is still the cloud of choice for most organisations, "almost 90% of the market wants to first clean up in-house IT before moving into another's IT environment, so we are helping them do just that with server and storage consolidation, helping them build their private cloud based and eventually helping them move less critical workloads into the public cloud," he added.
In fact, Tucci said much the same thing on the company's Website, "Enterprises are making a big move to the private cloud, at the same time, there's a move to the public cloud. The winning model is going to be moving your internal infrastructure to private clouds and then federating and taking service provider (SP) partners into your cloud typology. This will let you balance workloads across your own private cloud as well as across your public cloud partner's data centres using the same sets of technology, with you having all the control, giving you higher levels of efficiencies, and not having to buy for peak loads anymore. We believe the hybrid cloud will become the de facto enterprise model to maximise opportunity and efficiency, minimise costs, and provide maximum control and agility."
Scannell claimed that EMC's strategy towards providing cloud computing services is unique, in that EMC unlike its many competitors has not moved into the cloud service providers role but has strategically decided to provide technology to help service providers build the best cloud environments for their diverse customers. According to him this decision has fared EMC well, "The benefit with this approach is the standardisation of the market, a majority of which now uses Vblock technology. The creation of the alliance between VMware, Cisco and Intel makes it easier to move workloads across similar infrastructures. For instance, if a customer wants to move from an EMC functioning private cloud to a SP's public cloud environment that functions on VMware technology or Vblock technology , he need no longer worry about disruption when moving data or even losing data," he explained.
Another benefit of the standardisation of the market on Vblock technology, according to Scannell, is that the standardisation has "created an environment where the service providers have to stay competitive, to retain customers because they understand that the customers no longer worry about moving their workload in-house or to another service provider due to the ease of data migration and transfer, "he added.
"The problem with working with Amazon or Google for cloud computing for instance, is that they build their own infrastructure and the customer has no idea about the kind of technology that is used, so it is much like the 'Hotel California' concept, 'you can check out anytime you like, but you can never leave', because it is difficult to take the workload from their environment to another providers or move it in house if you so choose," he further explained.
Discussing the controversial subject of Service Level Agreements (SLA), Scannell believes that cloud providers are not too different from traditional IT outsourcers , "if you outsource your workload that's when an SLA is signed, so two things can happen, they fail to meet the SLAs and unfortunately there aren't a lot of penalties, kind of like a best effort or as we are all aware of the speed at which technology accelerates, end users are entitled to be serviced using the technology that was effective when the SLA was signed which in the case of a 10 year outsourcing contract may not be feasible because that technology may already be obsolete or may not be as effective given the current environment the business operates in," he said.
"This is a big challenge and the customers aren't going to tolerate those service levels but that's what you signed a contract in, and so the outsources are only liable to provide you the bare minimum levels of service provisioned in the SLA to stay profitable," he added.
Scannell said that the difference in the cloud environment or a cloud SLA is that much of the work that is done in the cloud works on a month to month commitment basis, so if an end user is not happy with the services he is being delivered by a service provider, he can up and leave.  "Again, some service providers are easier to leave than others. This brings us to another advantage of V-Block or VCE technology as opposed to Amazon or Google, where one can move server workloads without disruptions from one provider to another, creating healthy competition between service providers who are forced to deliver higher levels of service than the customer initially expected," he said.
When asked about his take on how best to address the ongoing IT skills gap in the region, Scannell pointed to a number of EMC initiatives that are focussed towards developing local ICT talent. One such initiative highlighted by Scannell is a programme called the EMC Academic Alliance, an initiative that involves strategic relationships with a number of credible local universities to train university students in storage, IT service and security.
Scannell also highlights EMC's partner training programme called Velocity. He said, "We don't want  partners who are not aware of the scope of EMC's solutions and are unfamiliar with our strategies and business objectives, selling EMC solutions to customers because that wouldn't fare well in the long term for any of the parties involved."
"So to become an EMC partner you have to be trained to be able to understand the underlying need for a technology implementation and how this implementation may vary across diverse industries. We bring partners and customers together and educate them on the need and impact of an implementation and once the partners have successfully acquired the certification they are strategically positioned to market EMC solutions and services to end users," explained Scannell.
Scannell is hugely optimistic about EMC's future but carefully points out that despite the organisation's success EMC  has not grown complacent, "the fact is information will continue to grow in both good and bad times and our strategy is to stay focused on delivering solutions that can help customers manage this surge in data and meet their exact requirements. With the market recovering from the financial crisis, we can be more positive about growth and delivery. As we continue to invest back in the community through training and internships and continue to develop competitive solutions, we will continue to grow. The idea is to listen to the customer and execute," he said.
"This is why organise regular EMC forums in the region that give us an opportunity to listen to the challenges our customers face and either help them address these challenges today or develop technology that will enable them to better address the situation tomorrow," Scannell added.
His optimism is reflected in EMC's expansion plans for the region which he describes as being far from what some may term gradual, "The team is not big enough, we are hiring aggressively. We have over 400 people in Dubai and yet there is a huge opportunity for growth. In addition to which, we have centre of excellence in Egypt –where we undertake advanced technology development and outsourcing of some of our services work – the team there consists of about 200 employees and we are looking to touch 300 employees in the coming year," concluded Scannell.