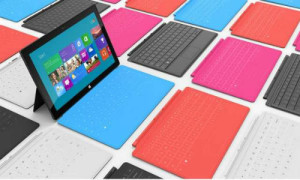 Microsoft on Thursday took an unexpected $900 million charge to account for what it called "inventory adjustments" for the Surface RT, the poor-selling tablet that debuted last year.
Later on in the day, Microsoft held a conference call with Wall Street analysts, but its fourth-quarter fiscal numbers – published earlier on its website shortly after the US financial markets closed – pointed out the massive write-down.
The company has been aggressively discounting the Surface RT, which runs the scaled-down Windows RT, a tablet-specific version of Windows 8 that relies exclusively on the "Modern", nee "Metro", tile-based user interface and app ecosystem.
On Sunday, for instance, Microsoft chopped the price of the Surface RT by $150, or 30 percent for the 32GB model, to bring it down from the original $499 to $349. The 64GB Surface RT was also discounted by $150, a 20 percent price cut from $599 to $449.
Today's $900 million write-down reflects not only those discounts, but also the extended inventory that Microsoft believes it may never sell.
Microsoft today reported revenue of $19.9 billion for the quarter ending June 30, a 10.3 percent increase over the same period the year before. But earnings of $5 billion, or 59 cents a share, were significantly below the Street's expectations of 75 cents a share.
During the second calendar quarter of 2012, Microsoft recorded earnings of just $192 million because of a pair of one-time charges: a $540 million revenue deferral tied to the then-upcoming Windows 8 upgrade programme, and a $6.2 billion write-off to account for the loss of good will for its online services group.
Amy Hood, the company's new CFO, acknowledged in a statement that, "Our fourth [fiscal] quarter results were impacted by the decline in the PC market" and added, "While we have work ahead of us, we are making the focused investments needed to deliver on long-term growth opportunities like cloud services."
Last week, Microsoft announced a corporate overhaul and spelled out its new strategy to become a devices-and-services seller after nearly four decades of selling packaged software.