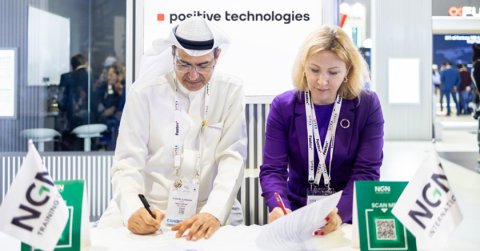 Positive Technologies has agreed on partnership with eight providers of cybersecurity services and solutions to develop cooperation in the region for the promotion of modern products and exchanging experience in the field of cybersecurity.
The company emphasises the importance of establishing a results-oriented cybersecurity system by means of innovative protection tools that make use of artificial-intelligence and machine-learning technologies. According to research data from Positive Technologies, the most relevant threats to security in the Middle East are cyberattacks on government agencies, industrial enterprises, and critical infrastructure. To carry out these attacks, criminals use social engineering methods, deploy malware, and exploit vulnerabilities. Within the region, 83% of all successful cyberattacks are targeted; on shadow markets, access to companies from the GCC region is sold at low prices ($100–1000). Since 90% of these access opportunities are provided with administrator rights, even inexperienced attackers with a small budget can attack these organisations.
In light of these conditions, Positive Technologies specialists recommend enterprises in the region to introduce a comprehensive results-oriented approach to cybersecurity to protect information systems and maintain cyberresilience. This approach aims to establish a continuous automated system of protection against non-tolerable events for each organisation[1]—namely, a system that entails identifying and verifying such events, regularly updating software, training employees in information security regulations, ensuring constant monitoring and detection of threats using modern tools, and checking the efficiency of the measures taken.
"Companies all over the world are in extreme need of professional help to protect their information systems and infrastructures from cyberattacks, which is why the demand for information security management services is growing in the Middle East", explains Evgeniya Popova, Director of International Business Development, Positive Technologies, "The main objective of the partnership is to support the ability of managed security service providers (MSSPs[2]) to provide high-quality services. To this end, our company offers a complete range of modern effective solutions within the framework of the results-oriented approach to cybersecurity. In an era of unprecedented growth of threats, it's time for organisations to take charge of their future by radically changing their approach to the protection of their digital assets. GITEX is an ideal platform for strengthening cooperation with regional partners who share our vision of establishing an information security system focused on achieving tangible results".
The company has also noted that while cybercriminals are increasingly making use of artificial intelligence (AI), Positive Technologies specialises in using AI in its products to prevent attacks on the infrastructure of organisations. Although traditional tools based on strict logic and signatures can effectively detect unauthorised actions that are already occurring, machine learning helps analyse the behaviour of users and various entities and stop such attacks before they even happen.
Some of the partners have shared their statements regarding the partnership:
Yaqoob Al-Awadhi, founder of NGN International, emphasised the significance of these partnerships, stating, "These collaborations hold immense importance for us, as they bolster our standing in both the Bahraini and regional markets. They further solidify our reputation as one of the most trustworthy and dependable companies, reinforcing our commitment to delivering cutting-edge cybersecurity services to our clients in both the public and private sectors. We deeply appreciate the unwavering support from our partners, and our dedicated teams are fully equipped and prepared to transform this cooperation into tangible projects and initiatives, working diligently to achieve our collective goals".
"In a landscape as vast and challenging as the desert, where countless cybersecurity companies thrive in the MENA region, we choose to collaborate with the true gems, exemplified by the likes of Positive Technologies. In an era marked by ever-evolving cyber threats and digital complexities, we recognise the critical need for partners who excel in safeguarding our digital frontiers. Together, we tackle the formidable challenges of today's cybersecurity landscape, protecting our networks and data from an array of persistent and evolving threats", said Rami Maldini, CEO of ABS MENA.
"Positive Technologies is the top result-oriented cybersecurity company. We are proud to be the trusted partner of this company in Asia. We believe Positive Technologies is ready to expand Positive footprint in the continent", added Derek Lee, CEO of Digiqore.
[1] A non-tolerable event is an event, caused by a cyberattack, that prevents the organisation from achieving its operational or strategic goals or leads to long-term disruption of its core business.
[2] A managed security service provider (MSSP) is an external organisation (provider) to which the management of information security tools is delegated.