ATLANTA, Ga. November 30, 2021: Secureworks, a global leader in cybersecurity, has been recognised as a Leader in the "IDC MarketScape: Worldwide Incident Readiness Services 2021 Assessment. The IDC MarketScape recognised Secureworks' incident readiness services with its portfolio of consulting and professional services designed to help security leaders and their organisations build incident readiness programs to complement cybersecurity software.

The IDC MarketScape: Worldwide Incident Readiness Services 2021 Assessment focuses on services that help organisations proactively prepare for security attacks. It highlights the importance placed on complementing security investments with a proactive approach to incident response and underscores the growing number of organisations seeking incident readiness assistance from their security providers.
The IDC MarketScape evaluated a variety of incident readiness capabilities delivered across Secureworks' portfolio, including Proactive Incident Response, Adversarial Security Testing and Security Advisory Services, as well as Taegis VDR for vulnerability management. Secureworks was noted for the customer value it delivered with its ransomware preparation assessment, active directory security assessment, and readiness simulation exercises developed in collaboration with Secureworks' Counter Threat Unit (CTU) and adversarial testing group.
"Our extensive expertise in proactive incident response and adversarial security testing helps customers implement protections to defend their infrastructure against attacks", said Barry R. Hensley, SVP and Chief Threat Intelligence Officer at Secureworks. "We're proud that the IDC MarketScape recognises the value of our deep expertise in testing and validation services, ransomware preparation evaluations, and Active Directory security assessments".
Secureworks Incident Readiness services are delivered by a team of more than 300 accredited and certified experts who apply deep experience and understanding of leading cybersecurity practices to help customers mitigate risks and impact. That expertise is enhanced by Secureworks' deep expertise and proactive threat research, combined with Taegis XDR data and visibility across more than 1400 incident response engagements per year.
"Organisations of all sizes that prefer a provider that has a range of cybersecurity software along with managed and professional services should consider utilising Secureworks", said Craig Robinson, Program Director, Security Services, IDC. "Secureworks provides a portfolio of technical and advisory, threat-driven readiness services leveraging seasoned experts and its community applied intelligence and advanced security analytics to provide customers coverage across the preparation life-cycle".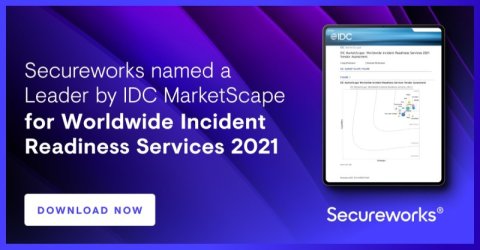 This assessment follows the recent IDC MarketScape: US Managed Detection and Response Services 2021 Assessment (doc# US48129921, August 2021) which recognised Secureworks as a Leader, and noted how Secureworks is "pairing security software, security services, and professional/consulting services to hybrid and multi-cloud environments".