Author: Sherifa Hady, EMEA Channel Sales Director at Aruba, a Hewlett Packard Enterprise company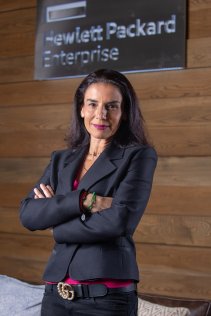 Aruba recently published a new e-book 'Opportunity at the edge', calling for companies to start embracing edge technologies immediately in order to take advantage of the vast commercial potential they present.
It was clear from the global CIOs and future thinkers we spoke to as part of our research that moving processes and applications to the edge of the network will be imperative to enable the ongoing digital transformation of companies, supporting everything from mainstream personalisation, to enhanced real-time insight and faster product and service innovation.
Interviewees spoke about the sheer scale of the task facing IT teams in delivering these new technology ecosystems, with changes anticipated on both a structural level (adapting the network infrastructure, adopting new innovations, enhancing security provisioning) and on a strategic one (driving a shift in mindsets, growing leadership awareness).
One thing was highly clear. The opportunities for channel partners to support companies on their edge journey are huge, but to take advantage they will need to be competitive, fast and ready to adapt what and how they sell.
So, to give them a head start, here are three key pieces of advice I think our partners need to know as we try make this future a reality.
Understand which sectors have the greatest immediate opportunities
We identified a number of specific industries that will be able to take advantage of the opportunities more quickly than others, and need support developing the necessary infrastructure:
Education: New revenue opportunities are opening up for education institutions. These include capturing video lectures and making them available for a micropayment to other institutions around the world, or allowing external businesses to book classroom and laboratory space on demand.
Healthcare: With AI and machine learning offering far greater analysis of patient data than ever before, healthcare organisations have a real opportunity to better understand the efficacy of treatments and medications, allowing better targeting and less waste.
Large Public Venues: From overlaying augmented reality content on games to sharing multi-sensory virtual reality versions of what the players are experiencing, there are immense new possibilities emerging in sports and live entertainment.
Position yourselves as a strategic and trusted partner
For many IT decision makers, the challenge of the edge will be ensuring the IT function can lead the pursuit of edge-based strategies and deliver the right level of support with a proactive, enabling stance. With a long list of critical success factors, this should offer numerous open doors for channel partners. Partners who can provide strategic guidance on which applications and services the IT team can use to streamline their work, and then help integrate them seamlessly into the network, will be in high demand.
Focus on securing the network
One of the key findings in our research was that securing edge networks is an incredibly high priority for businesses – in fact addressing the security challenges of distributed processing was the number one critical success factor.
If there is one offering you should therefore be thinking about boosting with the edge in mind – it is security. Partners who can help customers find and stop threats faster and make this an integral part of the network infrastructure will have a unique opportunity.