CNME Editor Mark Forker conducted a wide-ranging interview with the charismatic Vijay Jaswal, CTO, Middle East & Turkey – Software AG, who explained why he believes businesses are struggling to adapt to the demands of cloud transformation, the processes required to ensure successful a digital transformation journey – and whether he feels it is the job of a CTO, or a CEO to shape the digital strategy for an organisation.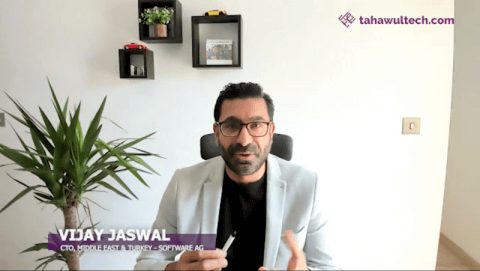 Cloud is the future and many businesses have embraced cloud technologies in order to embrace the current market demands of the digital economy. However, many businesses that were slow to adopt disruptive and next-gen technologies have encountered issues in migrating to the cloud.
Jaswal likened the challenges facing businesses moving to the cloud to that of consumers trying to move their data from their iCloud account to a Microsoft cloud, or their WhatsApp from an Android smartphone to an iPhone, it can be complex and far from straightforward, and what they both have in common is the issue of data.
"Cloud is a new territory for a lot of people. However, the first issue you face is the sheer amount of data you are dealing with, and then you need to determine whether you remove all the redundant data or not, or do you just transfer across everything, but of course as we all know space costs money. That is certainly one challenge, but the other challenge is what do you move", said Jaswal.
He added that one other key problem for businesses is a skills shortage in terms of having the right personnel you need to effectively move your IT operations to the cloud.
"A lot of enterprises in the UAE are moving their CRM data and their HRM systems to the cloud, but I think the other key challenge is migrating from an on-prem HR system to one that is on the cloud. That is going to lead to a scenario in which there is downtime and there is new functionality that you are going to need to train your users on. In addition to this, the technical aspect of moving from on-prem to the cloud means you need a whole new set of skills, and your existing IT department will more than likely not possess those skills, so they either need to re-train their workforce, or you need to bring in other people to help you make that change", said Jaswal.
According to the CTO of Software AG, they have the ability and capabilities to address this problem for businesses describing it as part of what they do.
"I think the big thing that we see and what is our bread and butter at Software AG is what we do is integration, and we help to connect information systems together. Now, of course when you move some of your applications to the cloud then you have created a silo, so for instance if your CRM system is on the cloud, but you still need to connect that cloud system to your on-prem billing system, but how do you do that is the big challenge and that is where we assist companies in overcoming this", said Jaswal.
In terms of the processes needed for a successful digital transformation journey, Jaswal was unequivocal about the importance of a unified plan when undergoing digital transformation.
:Planning is essential, but I think there needs to be a unified plan in place, and when I say unified what I mean is it should not be a piecemeal plan, which typically consists of one department going out on their own to do their own little bit of digital transformation, and then another department doing the same thing, it needs to be unified," said Jaswal.
He illustrated Dubai Government as a perfect example of a unified plan of excellence and described their strategy as having a 'waterfall effect' on the entities that operate in Dubai and Abu Dhabi, saying the leadership and direction provided filters down into every business. But to achieve this what do you need?
"I believe you need high-level executive buy-in because the leadership need to agree on a plan, but before you embark on an agreed plan, you need to have a strategy and a vision, and the plan needs to play into that strategy and vision, and it needs to filter down into every department. The guidelines are set from above and every department follows them. Digital transformation is about moving from one point in time from where a company is now, to a future improved point of time based upon a strategy and vision. However, to make that happen you need to know where you are now. You need to define where you are because you can not improve a process if you do not know what that process is. You need to create a digital twin of the company from a strategy and people perspective to the IT systems that support all of that", said Jaswal.
In terms of who is responsible for driving a company's digital strategy, Jaswal expressed his belief that the responsibility for this in the current digital economy befalls that of the CEO.
"If you had asked me that question 4-5 years ago, I would have said that you need to appoint a CDO (Chief Development Officer) but right now my view is, it should be the CEO. I think everyone in the current environment needs to have a digital mindset, but it must be driven by the CEO. Digital must pass through every single vein of an organisation's anatomy, so that is why it needs to be led by the CEO", said Jaswal.
He highlighted how Software AG solutions are giving businesses the ability to determine what their key processes are.
"In terms of digital transformation, once you have determined what your key customer facing processes are, we have tools to firstly define what those processes are, but then the tool goes much further than that, and once you have say your 10-step process established, then it helps to analyse each step of that process to pinpoint where the bottlenecks are, which allows you to put things in place to improve and remove those bottlenecks", said Jaswal.
He also outlined the need for many businesses to reduce their dependence on an IT manager, by transferring the knowledge of an IT executive into a knowledge-based system that they can access.
"Typically, if there is an issue within an IT company, you go to a manager who will know all the company's issues and challenges and have the skills and expertise to overcome them, but what if that manager is on holidays, or changes jobs, suddenly that knowledge goes with them. What we are saying is to grab that knowledge from the managers head and put it into a system. This system can then be used as a launchpad for transformation because you are pulling out the policies, processes, and experiences that this manager possessed, but now you are putting it into an enterprise management system. Then if someone encounters a problem they do not need to run to the manager, they can just tap into this knowledge-based system to find out what they need to do to overcome the issue", said Jaswal.
Software AG have been an IT leader for decades and are a company that is synonymous with innovation and excellence, but Jaswal believes it is their ability to extract value from data that is a key market differentiator for the company.
"We have been around the block a few times. Software AG has been around since 1969, so we have got both the trust and experience element. For example, if you want to open a business in Dubai and you access the Smart Dubai government application there are a number of different entities you need to connect with in order to obtain your trade license but guess who is doing all the plumbing behind that system, it's Software AG! We connect all these different entities together, so that the investors who invest in Dubai get their business license as quickly as possible. If I could sum up what we do in a sentence, then it is that we are masters at converting data to value and that is what we do", concluded Jaswal.