Cloud and infrastructure giant Oracle used its OpenWorld 2018 conference in San Francisco to spotlight the ways it will embed artificial intelligence in its broad product suite.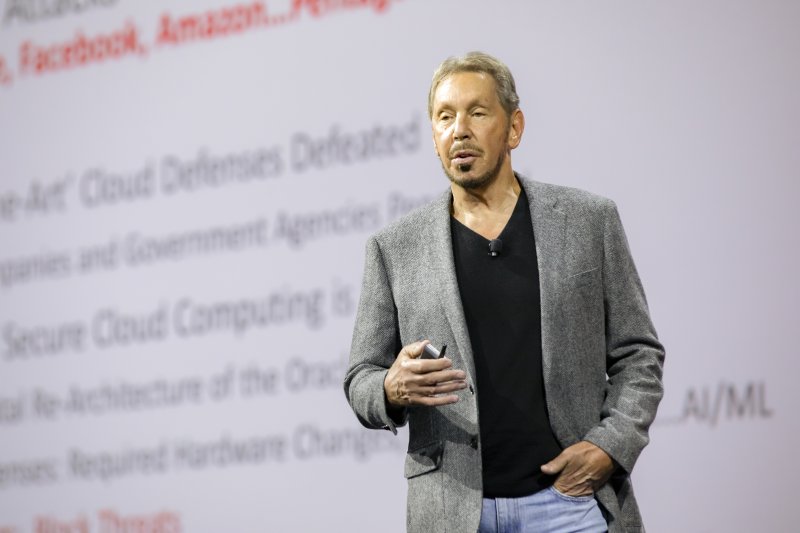 Oracle is strengthening its cloud data centre facilities in the UAE as it launches its new-generation cloud offering, the company's executive chairman, Larry Ellison, has announced.
Ellison, also the firm's famed chief technology officer, co-founder and former CEO, revealed the plan during his keynote address. "We agreed to add something in the UAE just yesterday," Ellison said day one of the conference, in reference to the company's global network of data centres capable of serving its Generation 2 Cloud.
In 2016, Oracle announced its intention to build a cloud data centre in Abu Dhabi, and in February 2018 the company told CNME that the facility – the company's 29th in the world – would launch by August, a move aimed at helping it to better serve cloud customers across the UAE.
Headquartered in Redwood Shores, California, Oracle is looking for heavy growth in its cloud revenues with the launch of its Generation 2 Cloud, which comes at a time when legacy operations linked to software and hardware offer more limited prospects for expansion.
Ellison said Oracle's new-generation cloud offering would provide better security thanks to machine learning, artificial intelligence and the way it was structured. Threats cannot enter, he said, and if they do, are unable to spread. "We use the latest artificial intelligence machine learning technology to build autonomous robots to seek and destroy threats. It's got to be completely automated, completely autonomous," Ellison said. "We'll never put our cloud computer code in the same computer that has customer data. That [would] create an incredible vulnerability to your cloud computer system."
With Autonomous Database – the "world-first, self-driving" platform – as its centrepiece, Oracle's Generation 2 Cloud is now on sale and available in the public cloud, while Ellison said it would be available in 2019 with the company's Cloud at Customer product.
Oracle claims its Autonomous Database requires no human input and can self-patch. Ellison said it had a performance advantage and significant cost savings over offerings from Amazon Web Services, which he repeatedly compared unfavourably to Oracle's product during his presentation.
Oracle co-CEO Mark Hurd, meanwhile, predicted that the growth of artificial intelligence would be so central to digital technology that by 2025 AI will be included in all cloud applications. Hurd also forecast that by the same year, 85% of interactions between companies and their customers would be automated.
"You won't have to deal with, 'Who are you? What's your problem?' again," he said, adding that while automation would replace some jobs, it would also create new ones. "With AI-enabled healthcare technology, as you [move] to these healthcare devices, someone will have to ensure that they are working properly. The majority of jobs, by the time you get to 2025, they haven't been invented. I believe there will be more people in IT working on a different set of tasks."
There will be new types of data professionals, robot scientists and smart city technology designers, to give a few examples, he said.
AI changes what Hurd described as the productivity equation, freeing up employees from more mundane tasks and enabling companies to focus on functions with greater creativity or strategic significance. "There's a chance for us to flip what's in the IT budgets – most of it is maintenance – and flip these budgets into innovation," he said. "We see AI as a core feature that will get embedded into virtually every solution, every application. Automation will reduce the time to do tasks that are impossible for humans to do today. The amount of data that companies have is beyond the ability of the most sophisticated data scientist to take advantage of. It's very difficult to harness that information … not so with AI."
Hurd made his address soon after it was announced that Oracle had acquired DataFox, a San Francisco-headquartered company with a cloud-based AI data engine that provides company-level data useful in decision-making.
The cloud market is, said Hurd, "moving faster than predicted", with 15 percent of United States data centres having shut last year as functions were moved over to the cloud.
Oracle has been outpaced by some competitors in the cloud, but hopes its Generation 2 Cloud and, linked to it, its Autonomous Database, will help it to close the gap to the likes of AWS. "Cloud is accelerating; these data centres are shifting from companies to the core cloud providers," said Hurd.
Oracle's chief corporate architect Edward Screven highlighted how machine learning and AI will shift the balance against cyber-attackers by offering greater assistance to cyber defence efforts, suggesting that technology would lead to a decisive shift in favour of defence.
However, he did warn that major companies could find themselves in the cross-hairs of geopolitical struggles in cyberspace. "Machine learning and artificial intelligence is a more effective tool for defence than offence," Screven said in a session moderated by Hurd. "Because it's been easier to automate attacks, the spread out bunker [form of defence] doesn't work. But if you have a few strongholds you've got management control. I think it's far, far more secure."
Screven has held security-related roles at Oracle for two decades and said that, over that time, the nature of the security threat had evolved beyond recognition. Where it used to be a case of fending off it unsophisticated phishing emails sent out by lone, poorly funded attackers, today the danger comes from well-funded criminal organisations or state-sponsored operations.
"Their motives are sometimes financial, sometimes political. Their motivations are sometimes to affect companies that are important," said Screven. "We've had to build new technology and figure out ways to respond that aren't manual, that don't have long think times."
Speaking alongside Screven, Jeh Johnson, the United States Secretary of Homeland Security from 2013 to 2017, said that "cyberspace is really the new battlespace". "We need to have as an international priority the defence in cyberspace," he said, adding that more use should be made of public-private partnerships in the defence of critical infrastructure. In terms of wider security issues, Johnson, a former general counsel at the US Department of Defense, said that the western world had done a good job of dealing with terrorist threats from overseas. However, he said a key vulnerability that was yet to be dealt with was the homegrown terrorism threat coming from individuals radicalised on the internet. He described such actors as being "increasingly tenacious and aggressive". "We struggle to keep up. We've yet to turn that corner." he said.