By Salman Abdulghani Faqeeh, Managing Director, Cisco Saudi Arabia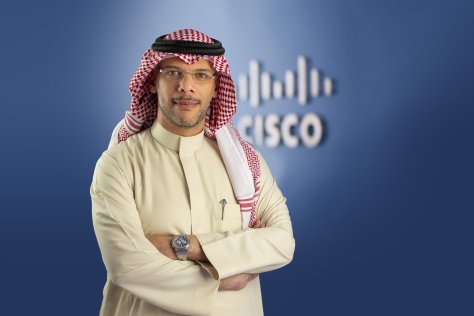 The pace of change is accelerating in the Kingdom thanks to ever more innovative technologies, industrial shifts, governmental policies and clear focus on safeguarding the environment for our future. This has clearly been illustrated with the launch of the Saudi Green Initiative, which aims to reach net zero carbon emissions by 2060, with programmes in the energy sector that will cut emissions by 278 million tons per year to 2030.
This is a landmark project, backed by more than $186.6 billion in investments, including a major forestation program, planting more than 450 million trees by 2030, rehabilitating eight million hectares of degraded lands and assigning new protected areas that will see 20 percent of the total area of Saudi Arabia designated as 'protected'.
As part of the 'Let's make it green' campaign, over 10 million trees were planted across all regions of Saudi Arabia in just 6 months. Cisco joined forces with Faseel, the Saudi environmental development foundation, to play its role, planting 2,500 plants at Thadeq National Park.
But that is not all. Sustainability is playing a key role right across the country's most ambitious mega projects, such as the $500 billion futuristic destination, NEOM – powered by 100% renewable energy. There is also the Red Sea Project, the world's most ambitious regenerative tourism project. Cisco is collaborating with The Red Sea Development Company (TRSDC) to create a full portfolio of intelligent, interconnected services for tourism, mobility, utilities, administration and more. In addition, an extensive environmental monitoring, simulation and management network will help protect the natural ecosystems in the region for future generations.
Evidently, Saudi Vision 2030 recognises the need for the country to switch towards a knowledge-based sustainable economy that will not only protect its future prosperity but shield its environment from harm.
A sustainable future is one in which we respect the world's natural resources and use them in the most efficient way possible, but this requires a collaborative approach to be successful. For this to become a reality, technology must play a central role and at Cisco, we believe in a future that is both green and digital. We are driven by a central purpose to build an inclusive future for all which includes the next generation and the environment. As such we are committed to reaching net zero carbon emissions by 2040. That means all our operations, product manufacturing, sales, distribution and product use will be net zero carbon by that year.
Furthermore, through the Cisco Foundation we are investing $100 million in climate solutions over the next 10 years. We have also launched the Cisco Global Problem Solver Challenge awarding $1 million towards innovative projects that address social and environmental challenges.
As the world's largest provider of networking, collaboration and security technologies, we are committed to enable our customers to reduce their emissions and improve resource efficiency. Our expertise and experience provide Cisco with a unique position to help our customers in Saudi Arabia, be they government agencies, private business or individuals, to achieve their own sustainability goals. We are working closely with stakeholders as they embark on their digital transformation journeys to implement climate conscious technologies that support important business operations.
Networks and digital technologies are at the heart of the big economic and social transformations happening worldwide. The more extensive networks are, the more inclusive our digital transformation will be. The more performance, agility and flexibility is built into the network, the more powerful a tool we have to build and share our knowledge for a sustainable future. Cisco is working hard to make this new digital infrastructure as energy efficient as possible. Technologies like our Silicon One chipset deliver high-performance networking, and more bandwidth at much lower power consumption levels. In fact, compared with previous routers without Silicone One, our new devices use 96 percent less energy while offering 35 percent more bandwidth to users.
That is not all. As hybrid work becomes ever more normalised, the five-day work week in the office is becoming a thing of the past for many businesses. Cisco provides a wide range of software-as-a-service solutions making remote work easier and convenient while lowering emissions through less commuting.
Digital transformation will create its own issues, however. Namely where to store the vast quantities of data being generated each day. Storage facilities require continuous management to ensure full optimal operation. Data centres must be kept at cool temperatures to ensure servers run properly and the M6 generation of Cisco's Unified Computing System features a new zone-based cooling feature. This provides targeted airflow and, in combination with other improvements, can reduce the energy consumption of the overall system by 11% compared to the previous design.
Smart buildings are now a reality with the use of Internet of Things (IoT) sensors that can monitor and control temperature, lighting and air quality more efficiently. With more than 20 percent of energy-related greenhouse gas emissions coming from buildings such features can have a significant positive impact.
Cisco has more than 15 years of experience in taking action to protect the environment. Cisco technology is now core to millions of cloud solutions, mobile networks, video calls, and digital transactions globally. Although we aim for these technologies to be the best on the market, they are also designed from the outset to protect the environment and encourage inclusion. Our commitment to environmental sustainability complements the efforts of the Saudi government's own sustainability initiatives. We look forward to working with industry, the government and private enterprises of all forms to help all stakeholders successfully achieve their goals now and in the years ahead.