Stuart Isted, General Manager, Middle East & Africa at Crypto.com has praised the role of new investment platform Investopia and believes it will solidify Dubai's position as the 'standout hub' for innovation in the new era of the internet in an exclusive op-ed for tahawultech.com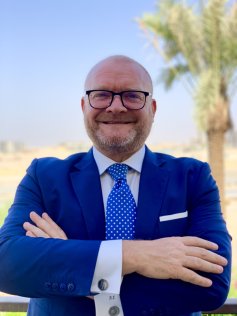 More than two decades ago a very specific kind of metropolis was being constructed in Dubai, designed to entice and house the world's largest information and technology firms which would benefit from a leading economic freezone.
Internet City was a towering physical symbol that the region was going "all in" on the "dot-com boom". Even when that bubble burst in 2000 and many others cashed out, Dubai didn't waver in its long-term investment commitment. It is that kind of foresight in policy thinking that will lead the UAE to becoming one of the strongest environments for the new era of Internet development – Web3.
When I moved to Dubai 18 years ago, the first thing that struck me was how easy it was to relocate. It was not just that infrastructure that was attracting some of the best and brightest talent in the world – it was clear that the UAE was in the process of simplifying the way we did business through a favorable regulatory environment and innovation. And those same benefits are still on offer today.
Looking at the UAE in 2022, whether you are in filmmaking, tech, media or finance, there is strong support and investment for global industries. But what impresses me the most is that the region has truly recognised the potential of virtual assets, cryptocurrency, and more broadly, blockchain technology.
There is already a deep understanding of the revolutionary impact this will have on the financial services sector, and that includes welcoming and working with companies like Crypto.com to enhance the region's growth when it comes to Web3 innovation, and more specifically, encouraging the adoption of cryptocurrency.
The Middle East has been very vocal about its intentions to become a crypto hub. All you need to do is look at declarations from the very highest levels of government, the recent blockchain innovation strategy set out by H.H. Sheikh Hamdan Bin Mohammed Bin Rashid Al Maktoum, Crown Prince of Dubai, and the fact that the various regulators are extremely forward thinking.
Now that businesses are being lured by the potential, we have definitely entered the stage where the government and regulators are working eagerly to facilitate growth. Take, for example, the recent announcement of the NextGenFDI initiative from the UAE Ministry of Economy.
The aim is to offer faster incorporation processes and streamlined bulk visa issuance, among other benefits, in order to convince 300 global tech firms, data scientists, software developers and coders to relocate to the UAE.
Similarly, a platform like Investopia also offers support for innovation and encourages companies like ours to have a pivotal voice in shaping regulatory discussions and industry thinking in the region. Becoming a founding partner of Investopia was important to us because we share similar visions of how virtual assets and blockchain technology will transform the global economy, and of their importance to the development of new economic sectors in the future.
We are really only at the tip of the iceberg when it comes to accelerating vital developments in our industry and this partnership allows Crypto.com to collaborate on meaningful projects that will spur on this progress in the region.
But why is the UAE making business so easy for those in the digital space?
There is a lot of good that can come from blockchain technology. We are not just talking about smart contracts and enabling businesses and banks to have a more transparent set of operations.
This incredible distributed ledger technology can also have a positive impact on things like food safety, food security and education. Blockchain is going to change lives and the UAE has identified the benefits that come with adopting this flexible technology and metaverse concepts into everyday life.
This speaks to the heart of our mission at Crypto.com, which is to put cryptocurrency in every wallet. The more people who are immersed in the metaverse and interact with it, the more encouraging that is for us as a company.
For this reason, and many others, we are committed to playing our role in growing the digital ecosystem in the UAE. This will come through our strong relationship with various regulatory authorities and the Central Bank but also through private partnerships, community engagement and education.
We were extremely proud to secure our provisional VARA license earlier this year and view this as the first in a series of important steps to expanding our presence in the region. Dubai will also become our Regional Head Office for the Middle East and Africa.
Our upcoming goals in the UAE revolve around launching our world class suite of products to as many people as possible, starting off with our institutional and qualified professional investor clients. We look forward to partnering further with local and regional associations to expand the use of blockchain and crypto technology and, more specifically, we are aligned with and will continue to support key government initiatives that seek to increase the talent pool of our sector.
Through our work in the region, we know that the UAE recognises and respects our core values around trust, security, compliance and governance. We also strongly support and foster collaboration in combating key risks, such as money laundering and financial crime.
So whether it is VARA in Dubai, the UAE Central Bank or the ADGM in Abu Dhabi – they look to us as a trustworthy organization that has the right credentials and capability to help support their innovation goals. For us, this privileged role comes with responsibility.
We must ensure we have the right material to carry out multi-lane education for our current and future customers, whether they be beginners or experts in our space, while also extending that to our institutional clients as well. We want to enable citizens of the UAE to have a confident understanding of how to use our products and buy, sell and hold cryptocurrency.
We also know the importance of sustainability in our sector, something which is also in sharp focus in the UAE. In the past year we have engaged with policy makers in the region and beyond, as well as with other partners, to advance our carbon strategy and be part of the solution to climate change. One such solution that resonates for us and aligns with our technology and innovation ethos is around carbon capture; which is also relevant to the region given its geography and commitment to sustainability.
Our company's ambition is to become an integrated and accepted participant in day-to-day economic activities in the UAE and we strive to support the role future payment methods play in a fast-developing society. With a history and track record of harnessing innovation and supporting business growth – it is looking like the UAE will be one of the first markets where this ambition is played out in real-world scenarios.
And, as has been the case in the past, where the UAE leads – others in the Middle East region benefit and follow.