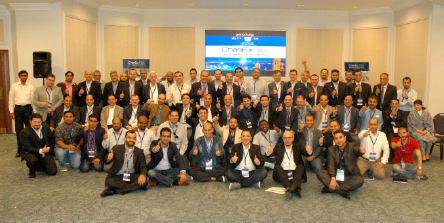 Saudi-based VAD, AlJammaz Distribution has organised the second ChanEx (Saudi IT Channel Executives Meeting and Conference) event in Istanbul – Turkey between 8th and 10th of October 2015.
The theme of the ChanEx2 2015 was "Let us share together technology transformation thoughts and ideas for the coming years".  At the three-day event, Asim S. AlJammaz, VP of AlJammaz Distribution, shed light on the business challenges, directions, market fluctuations. "The objective of this event was to bring together CEOs, directors and decision makers to share ideas and discuss issues they face together in the Saudi IT Industry, think about market transformation and how they can stand together, integrate their resources and complement each other as much as possible to provide a much healthier market to compete," he said.
The top International vendors such as Cisco, EMC, APC, Panduit, VCE, Fluke Networks, Ruckus Wireless, Rittal, Honeywell and Linksys have taken part of this gathering to give their views on market directions, new trends and expected transformations.
"The Information Technology Industry is changing fast, faster than what we think," said AlJammaz. "We can stay in business only if we are capable of proactively predict where the business is moving and how fast it is moving. Having our top technology vendor partners with us in this top IT resellers gathering event, added a lot of value toward the discussions between the executives during the event."
The event also served as a platform where top vendors and IT executives exchanged thought-leadership and key trends in the market.