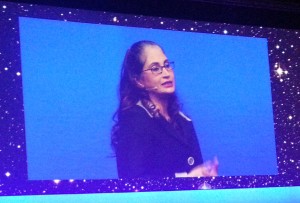 Change is certainly afoot when a supposedly down-to-earth networking conference is launched with the kind of glitz and glamour usually reserved for the Oscars.
But the theme worked well, as Padmasree Warrior, CTO, Cisco, kicked off Cisco Live in London this morning delivered her keynote speech on how to address the changes in how users view IT.
"We are at the brink of massive change that's happening around us," she said. "What I'd like to talk about today is Cisco's technology visions, strategy and execution in the context of the changes that we have seen.
Warrior alluded to new technologies, new opportunities and the exponential growth in online connectivity that the world has seen.
"I was reading an article in Forbes that talked about jobs that are in high demand – like data scientist, user experience design, social media manager," she said. "These jobs weren't heard of 20 years ago."
Warrior also pointed to the enormous surge in technological devices as something that IT managers now need to address.
"In 1984, when Cisco was first being created, there were 1,000 devices connected to the Internet," she said. "In 1992, that number became 1 million. And in 2020 it's expected that there'll be 50 billion devices connected to the internet."
Warrior argued that, because IT managers needed to address the way in which employees want to connect to networks, networking needs to see a fundamental shift. If an employee wants to use his or her own device at work, for example, it should no longer be a headache for a CIO to manage the connections.
The problem was particularly evident when it comes to managing a wired and wireless network at the same time, Warrior said.
To preview Cisco's solution to the problems, Warrior invited Rob Soderbery, Senior Vice-President and General Manager for Enterprise Networking, Cisco, to take to the stage. His job was to preview Cisco's so-called Unified Access solutions, which were properly announced later in the afternoon.
The idea is to simplify a network, and to keep the network, and all of the devices connected to it, safe, he said.
Soderbery previewed Cisco's new Unified Access Data Plane ASIC, which, he claimed, will be at the heart of all of Cisco's newest enterprise products. The technology offers support for both wired and wireless networks, and provides 20Gb wireless performance.
Also previewed was the new Catalyst 3850, a box featuring two of the new ASICs and providing the best of the firm's wired and wireless support. Soderbery then offered a glance at the vendor's new 5760 Wireless LAN controller, which, he claimed, is now the fastest wireless LAN controller on the market.
Following this, Warrior took the floor again, and explained Cisco's advancements in data centre technology.
A number of Cisco's new solutions will be unveiled over the two-day Cisco Live conference, which attracts thousands of visitors every year, she added.