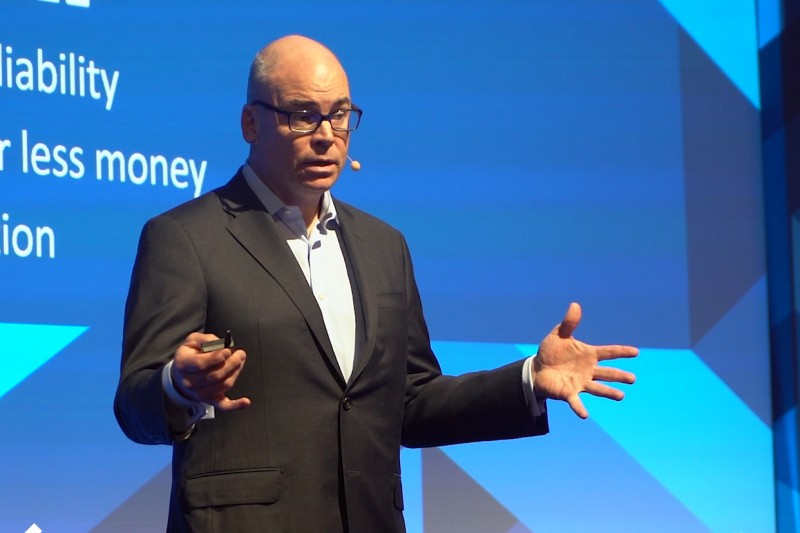 Backup, recovery and archive specialist Commvault today showcased the advantages of its HyperScale technology at its first Middle East Connections (Live) event at the Ritz Carlton Hotel in Jumeriah Beach Residence, Dubai.
The event brought together industry experts, analysts, Commvault customers and partners from across the globe to provide hands-on perspectives on how to protect, manage and use data. Local and regional customers attending the event included Dubai Police, Dubai Municipality and Emirates Steel.
Commvault's global chief marketing officer Chris Powell got Connections (Live) underway by highlighting some of the biggest challenges enterprises now face in managing their data.
"CIOs are now expected to deliver a highly reliable environment for less money, whilst also being innovative," he said. "There's one universal rule for data – that it always needs copies. The world has fundamentally shifted from doing backup audits to understanding whether an organisation has recovery readiness. Reports now predict that there is a 100% chance of being victim to a ransomware attack, and that necessitates recovery readiness. No company can turn off their environment and just move into modern, hybrid infrastructures."
Powell's opener was followed up by an interview with Dubai Police's IT resource investment department manager, Joseph Samaha, who highlighted how the firm's smart ambitions were being met through Commvault's help, including collecting data from motorists to analyse driving behaviour to help prevent accidents.
"Four years ago, we opted for SSDs instead of spinning disks," Samaha said. "This has given us an edge in performance and accuracy, and will help save on our electricity bill. Data centres now have to deliver on the demands of digital solutions. The increase in the volume and velocity of data needs the servers and storage to accommodate that. We want to expand and out-scale as the demand comes in; the ability to scale out is a must. You need to be agile, and that means you changing quickly according to demand."
Gartner's principal analyst, Santhosh Rao, the shared his insight on a selection of Middle East data centre trends, chief among them the backup, recovery and management of data.
"By 2020, 30% of organisations will be targeted by major cyberattacks, and they will spend more than two months cleansing their backups as a result," he said. "We think that tape still has a role to play, especially if you have a petabyte-scale environment. Tape is still the cheapest media around. That being said, it has challenges with management. It's difficult to manage tapes and update to new media every 10-15 years. An alternative that is slowly emerging is cloud-based backup and archiving. When looking at vendors in this area, they need to have a heterogeneous environment, and provide ease of use, tiered recovery and orchestration.
Wael Mustafa, Commvault's area vice president for the Middle East, South Africa and Turkey, said, "Our customers have demonstrated the advantages for organisations across multiple sectors in modernising their data backup and recovery platforms, ensuing that their information is readily available, cost-efficient and easy to manage. We are excited to further grow our regional network alongside our partners and customers, and illustrate how Commvault can help businesses to transform their data into strategic assets."
Sponsoring Commvault's Connections (Live) event were Fujitsu and Cisco, as well as Logicom, StorIT, Hewlett Packard Enterprise, Huawei and Cell Info.