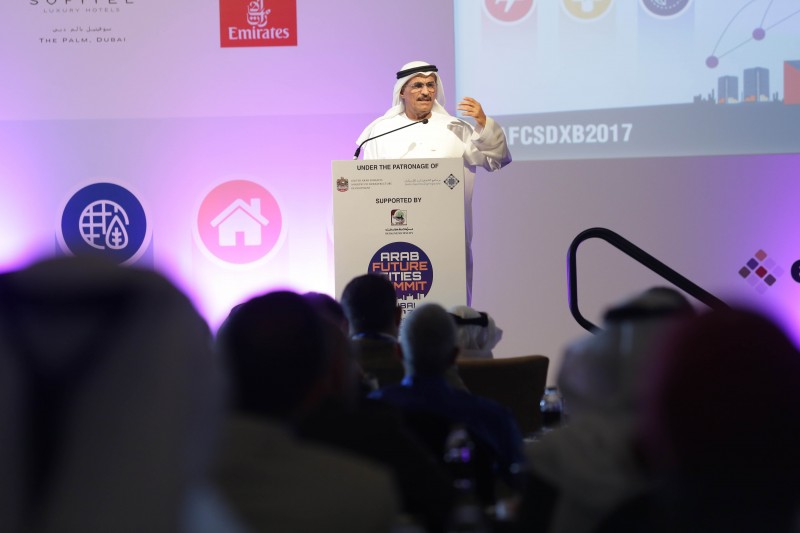 UAE Minster of Infrastructure Development Dr. Abdullah bin Mohammed Belhaif Al Nuaimi has highlighted the importance of building and developing future cities, relying on innovative and creative ideas in line with its development over the past years and its reputation on the global map in the coming years.
According to WAM, Dr Al Nuaimi made the statement in his inaugural address on at the Arab Future Cities Summit 2017. He noted that building future cities with state-of-the-art facilities and renewable energy solutions will contribute to the development and sustainability of the future communities and as a result will lead to an economic growth based on a strong foundation that takes into consideration all dimensions of the community, most importantly making the citizens happy.
"We are committed not only to keeping pace with the latest developments but also to foresight challenges, develop and analyse visions concerning all vital sectors and design long-term plans that will achieve a qualitative leap at all levels," said Al Nauaimi, who is also Chairman of the Sheikh Zayed Housing Programme. "This can only be achieved through the development of cities and infrastructure to cope with the latest current developments."
He added that hosting of the Arab Future Cities Summit 2017 in the UAE reflects its ambitious vision to promote the development of future cities that are capable of keeping pace with the rapid changes in the world.
The summit aims to offer a unique chance for the parties interested in the sector of the future cities and residences, to promote employment opportunities and get insight on the best international practices in the field by meeting worldwide pioneer leaders and decision-makers in this sector.
It was organised by the Ministry of Infrastructure Development and the Sheikh Zayed Housing Programme in partnership with Expotrade Middle East, will be held over two days in Dubai, with the participation of pioneers and decision-makers in future cities, locally, regionally and internationally. More than 600 participants and 40 international experts will present over 20 specialised presentations during the event.
On the first day of the Arab Future Cities Summit 2017, the speakers discussed the development of smart cities, open city data as well as serial data, related to transport, e-government technology, digital transformation and the role of the future in achieving happiness and enhancing the integration system in supporting the cities of the future.