Exhibiting for its fifth consecutive year at GITEX, Elo Touch is emphasising its recently launched touch technology – 'projected' – at this year's event, whilst also aligning itself with Dubai's vision of a 'smart future.'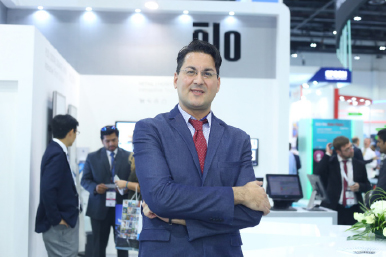 With more than 41 years of experience in the market, the company – based in California – delivers touch-screen solutions for devices measuring from 7-inches to 70-inches.
"Even if other companies are bigger than us, we have a unique feature in that we can deliver a wide range of touch technologies," said Mohamed Berrihi, Regional Sales Manager, META, Elo Touch. "Our 02 series have digital signage screens which are operated through this 'Projected' technology capacity, which give customers an iPad look and feel – just on a larger scale. We produce these screens from 10-inches all the way up to 46-inches."
The company has also recently launched a 55-inch touch monitor, which is enabled with 4K technology – making the images much brighter and more colourful.
Whilst Elo Touch has a presence throughout the UAE, Berrihi said they envisage using this year's GITEX event as a method of widening their reach in the region. "We are well distributed in the UAE and Saudi Arabia, but not to the extent that we want to be in Qatar, Kuwait and other neighbouring countries. Dubai – and GITEX – open a significant amount of doors to us in this region."
Aligning with the Dubai vision of a smart future, Elo Touch is integrating its interactive solutions within the retail, government and education sectors in order to bridge the gap between physical and digital.
"All of our solutions are interactive. If something is 'smart', you have to be able to interact with it. This is why we are teaming up with software solution companies who are building the content, and we provide the physical means for customers to take that first touch in their interactive journey," said Berrihi.
GITEX attendees can visit Elo Touch at Booth B4:20, in Hall 4. "It's a show like no other," said Berrihi. "It's a rendezvous we simply cannot avoid."