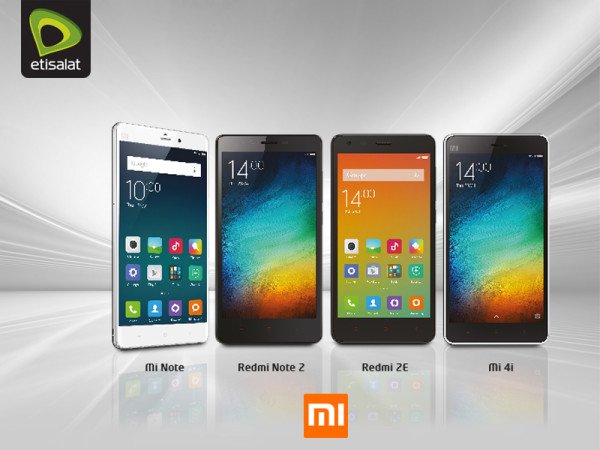 Etisalat announced that it will exclusively introduce the latest 4G LTE Mi smart devices from the Xiaomi stable for its UAE customers.
The new Xiaomi devices start from 4.7-inch up to 7.9-inch screens, quad-core to octa-core processors and high-resolution cameras from 8 megapixels to 13 megapixels, the devices are available with storage capacities ranging from 16GB to 64GB, to suit each user's preferences and needs. Xiaomi smart devices also contain components from leading global companies such as Qualcomm, Sony, Samsung, Sharp, Panasonic and Toshiba.
Khaled ElKhouly, Chief Consumer Officer at Etisalat, said, "We are delighted to bring the renowned Mi brand to the UAE market, giving our customers the opportunity to own and use these popular devices. It is part of our commitment to build partnerships with world leading smartphone manufacturers and technology leaders in order to enhance our device portfolio, as well as enable our customers to enjoy the best-in-class performance and speeds through our 4G mobile network."
Customers can buy Mi standalone smartphones starting from AED449 for Red Mi2E (16GB), AED 719 for Red Mi2 Note (16 GB), AED 899 for Mi4i (16 GB) and AED 1689 Mi Note Pro (64 GB). In addition, customers purchasing the device on existing or new prepaid accounts are eligible to enjoy 1GB free data for up to three months as Etisalat's special 'deal of the day' by dialling *056#.
Mi smart devices customers will be able to optimally use the free data, thanks to Etisalat 4G /LTE network, the fastest and widest in the country. It offers high-speeds of up to 300 Mbps and covers nearly 90 percent of the country's populated regions.
For ease of payment, information and much more, Etisalat's mobile customers can download its new self-care mobile application – Etisalat-UAE – available for free on all platforms, including iOS, BlackBerry, Android and Windows. The app allows users to keep updated on the latest services and products offered by Etisalat. Users can also monitor their data, voice and SMS usage as per subscribed postpaid bundles and pay their bills. An efficient customer service feature of the app allows customers to have a live chat with Etisalat's customer care team, ask questions and receive answers.